Affiliate Disclaimer
Google Find My Device is an excellent tool that makes it easy to spot your missing or stolen Android phone or tablet. This tool is readily available and accessible. With it, you can easily track down your device or safeguard your data if you lose your phone.

In this article, we will review all the features of Google Find My Device. But from the early on, you need to understand some pros and cons of this tool.
Pros:
allows remote own device management;
suggests the direction of the device accurately;
expected to start location offline devices from summer 2023.
Cons:
limited functionality due to privacy concerns;
requires an internet connection;
requires integration with a Google account.
Besides, you cannot track someone's location with Google Find My Device. If you need to, here's an article about how to track someone's location without permission. Alternatively, fill out the form below to start tracking someone anonymously right now.
Enter the Phone Number And Find Its Location
Number Tracking
Phone Lookup
Quick Review of Google Find My Device
Our Verdict: the best tool for locating your lost or stolen device, but it can't help with locating others, especially anonymous.
First presented: December 11, 2013.
Rating: 4.4 stars on Google Play.
Compatibility: Android OS 9+ and 100+ phone brands, including Samsung, Huawei, RealMe, Xiaomi, Sony Erickson, AVA, Acer, etc.
App size: 6MB.
Last Update: July 5, 2023.
Downloads: 100M+.
Price: Free.
What Is Find My Device From Google
Find My Device feature is a Google service that can help you locate, erase, or lock your Android devices remotely. This service is linked to your Google account, where once activated, your device's location information is securely linked to your Google account.
When your device connects to the internet, it occasionally sends location information to Google's servers through Wi-Fi, cellular data, or GPS. Google uses a combination of these sources to determine your phone's location.
How to Use Find My Device on Android
These step-by-step instructions will help you use Find My Device Android successfully.
Manage the Phone Settings
Before you use Find My Device to track a phone, it's important to ensure you have set it up correctly.
Ensure that the device is turned on and has an active internet connection.
Go to your Google account and log in.
Turn on Find My device from the security and location feature of your Google account.
Turn on location services on the phone or Android device.

Ensure that the device is visible on Google Play by going to play.google.com/settings. Then, select visibility>show in Menu.
Track a Phone
After setting up Google Find My Device, you can track a phone using a PC or another Android phone.
Open the Find My Device website on a browser using this link google.com/android/find. You may be required to log into your Google Account. It needs to be the same account as the lost or stolen phone. In addition, the lost device must be on and connected to Wi-Fi or mobile data.
Once you've logged in, Find My Device will detect your lost phone. If the location services are on, Find My Device will present you with a pin of the phone's location on Google Maps.
How accurate is Find My Phone? The service does not show the exact location as it's usually approximate using GPS, cellular networks, and Wi-Fi connectivity.

If the phone is off and can't be located, you will see the last network it connected to and its last known location if it's available.
If you don't have a PC or extra phone, you can use your friend's or family member's Android phone to track your stolen or lost device. This is possible with the Find My Device app "sign-in as a guest" option. Log in to your Google account and link it with the missing phone.
Play A Sound
Google Find My Device has the Play Sound feature that lets you listen to a lost phone.
To find your lost Android device, click on the Play Sound Feature. Your device will ring at the highest volume for five minutes, even on Mute. This feature is handy when finding a lost Android phone in a known general location like your home, office, car, etc.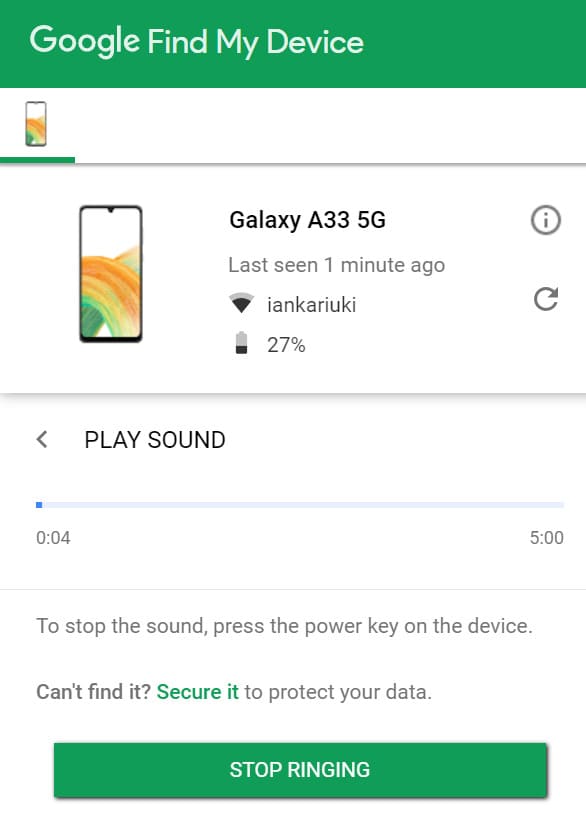 Lock the Device
Another incredible feature of Find My Device is Secure Device. This feature lets you lock the device remotely if you think it's stolen or lost.
Tap Secure Device. You may be asked to log in and enter a new password to activate your device's lock. You can then add a message with your phone number on the lock screen to enable whoever finds the device to return it to you.
Erase Device
If you suspect there are zero chances of recovering the lost device, Google Find My Device service can help wipe your data so that no one else can access it.
Tap on Erase Device. This will wipe the data by performing a factory reset. However, your phone needs an internet connection for this feature to work. Thus, this can only happen if it connects to a Wi-Fi network or mobile data. If you recover your phone and want to regain its use, you will need your Google account password to access it and download the lost data.
Set up Google Assistant
Another method of finding your lost smartphone is through Google Assistant.
Open the Google app and tap on your name's icon on the top right.
Tap Settings > Google Assistant > Hey Google & Voice Match.

Toggle Hey Google and Voice Match to On by pushing the slider to the right. You can then access the voice model to train the assistant to recognize your voice.

Once set up, return to the home screen and say, "Hey, Google, where's my phone." Google Assistant will find your phone's location, and it can also make it ring.
Does Find My Device work when the phone is off?
When your phone is off, Google Find My Device cannot locate the phone. I turned off my phone to try this feature, and the service could not contact the phone. Therefore, I was unable to use the play sound option or secure its data. This means that if your phone is stolen and turned off, Google Find My Device is no longer an effective tool for locating it.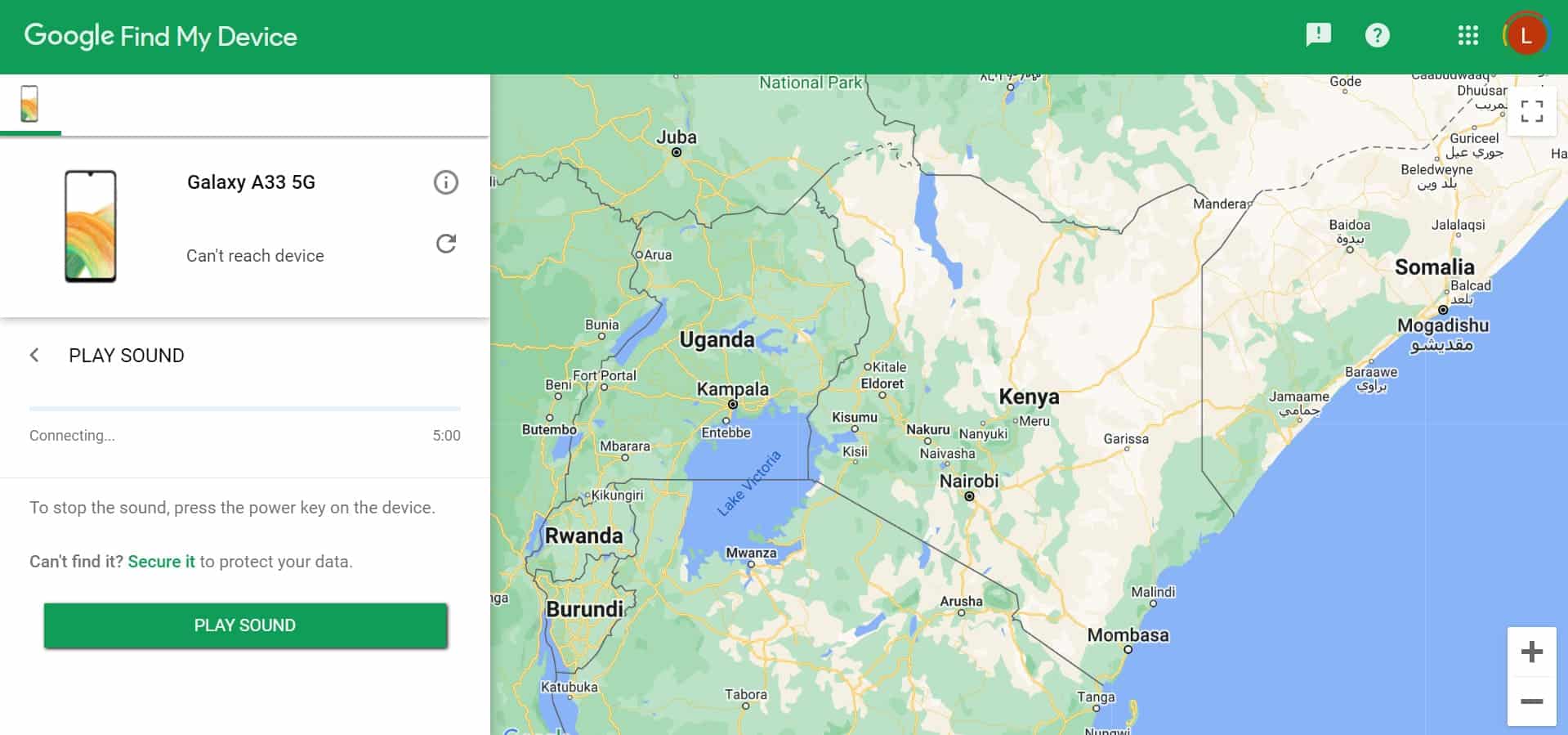 Why Can't Google Find My Device?
There are several reasons besides a turned-off that can prevent Google Find my Device from working on a phone.
Google Find My Device is not enabled.
You'll need to go to Settings > Google > Services > Find My Device and toggle the slider to the right to turn it on.
The phone is not connected to the Internet.
Google Find My Device requires GPS, which depends on the internet. Hence, your phone must be connected to the internet for this service to work.
Your phone's Date and Time are incorrect.
If your phone's date and time are incorrect, Google Find My Device will encounter errors. Always have your phone's date and time set correctly.
Store recent location is turned off.
When your phone goes offline, it's possible to see the last known location if "Store recent location" is turned on. Check if "store recent location" is turned on to allow Google to encrypt and store your phone's location, allowing Find My Device to work even when the phone is turned off.
The battery is low.
Most apps depend on a certain level of battery life to work. Below a specific percentage, and apps won't work, including Google Find My Device. Always have your Android smartphone or tablet operating at the optimum battery level.
Users' Review of Find My Device
Find My Device has over 1.22M reviews from the Google Play Store. Users find it easy to use, while others have found it faulty when locating a lost phone. One reviewer noted that they could not access their phone's location after it got stolen since the culprit was using it and Google was unable to reveal its location.

On the positive side, many users have said they find the app useful, especially around the house. Another user was happy they located the phone quickly with Google Find My Device last location.
Can You Use Find My Device to Track Someone?
You can't use Find My Device to track someone unless the person's phone is connected to your Google account. However, there are other proven ways to track someone's location thanks to online trackers like the HeyLocate Free Phone Number Tracker.
Enter the Phone Number and Track Location Right Now
Number Tracking
Phone Lookup
Comparison Table of Find My Device and Third-Party Trackers
The comparison of the features of Google Find My Device and third-party trackers is in the table below.
| Feature | Find My Device | Third-party trackers |
| --- | --- | --- |
| Tracking location in real-time | + | + |
| Ping the phone | + | + |
| Lock the phone | + | + |
| Geofencing | – | + |
| Track someone's location | – | + |
| Hidden tracking | – | + |
| Track someone's phone activity | – | + |
Alternatives for Android Find My Device
There are better ways of tracking a phone, especially if you want to do it anonymously. These are two great options:
Track Phone by Phone Number with Scannero
Scannero is an incredible platform that lets you find someone's location using their phone number. Once you send a location request, the person will be prompted to click on the message, and the service will ping their location as soon as they tap on the location tracking link.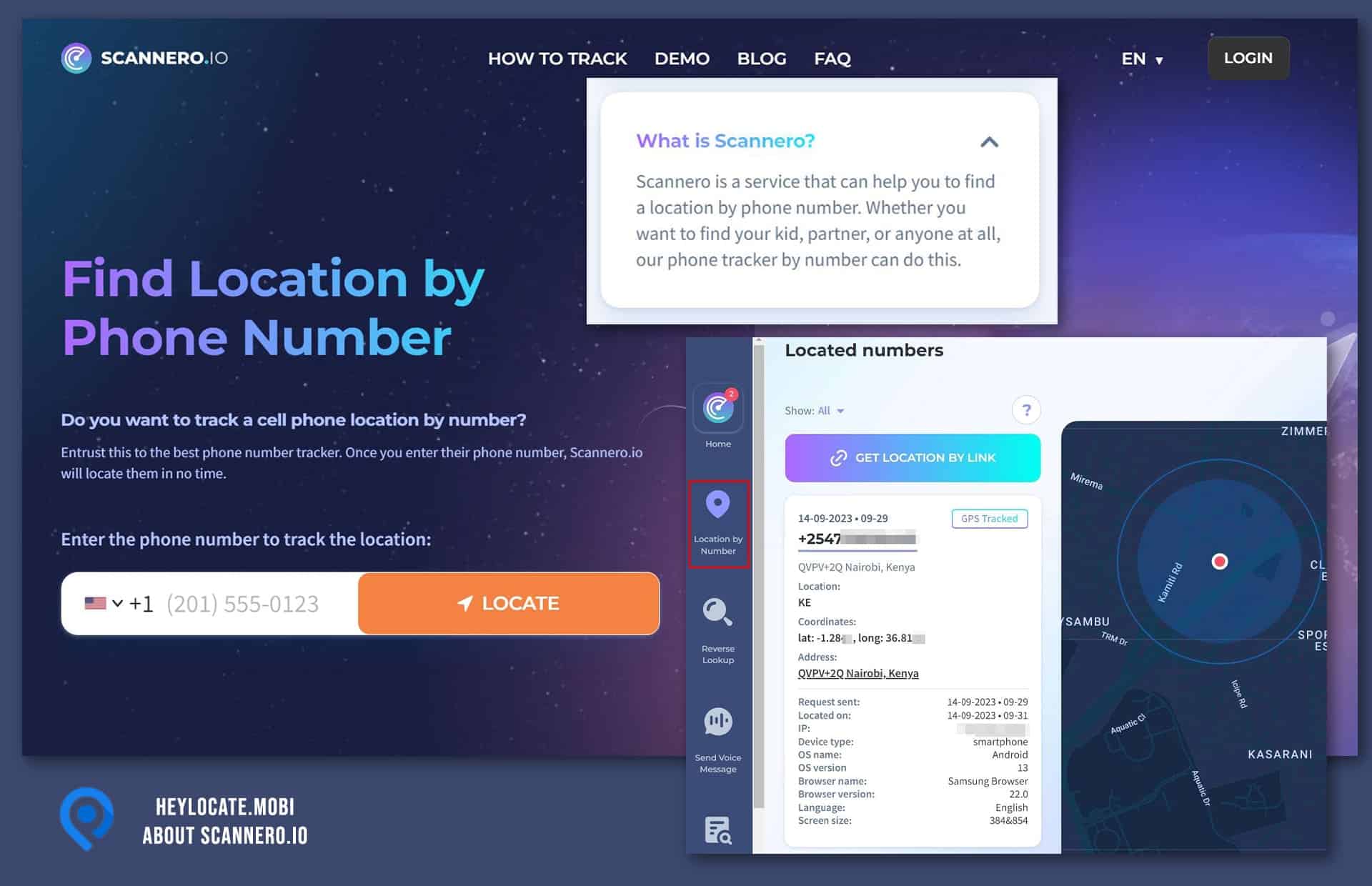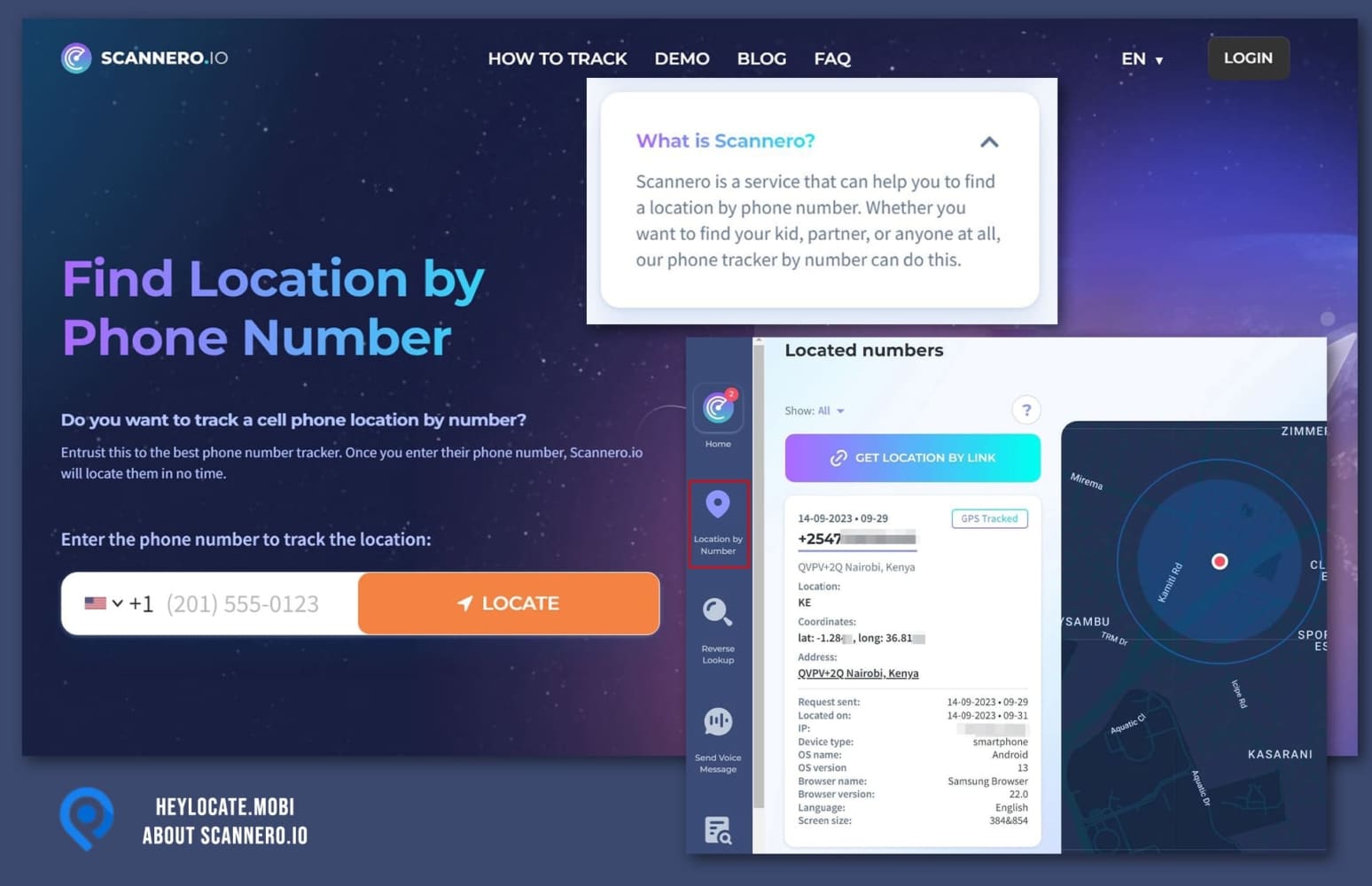 Scannero lets you know when the person clicks on the link, and it will present their location on Google Maps.
To use Scannero, you will need an account with the service. Then, enter the phone number you need to locate in the search bar. Scannero will ask you to curate a personal message which you'll send to the target phone. After you hit send, the message is sent to the phone, and once they click on it, Scannero will provide you with their location.
---
Control Someone's Phone with mSpy
Looking to do a little more than just find someone's location? Well, mSpy is one of the best options for accessing a target phone remotely. It comes with tons of features that include controlling someone's phone remotely. This means you can access all the features on the person's phone.
With mSpy, you can ping the phone's location, access their phone calls and text messages, and even see their social media activity. In addition, mSpy can see the person's internet activity. You can block websites and apps if you're tracking a child's phone.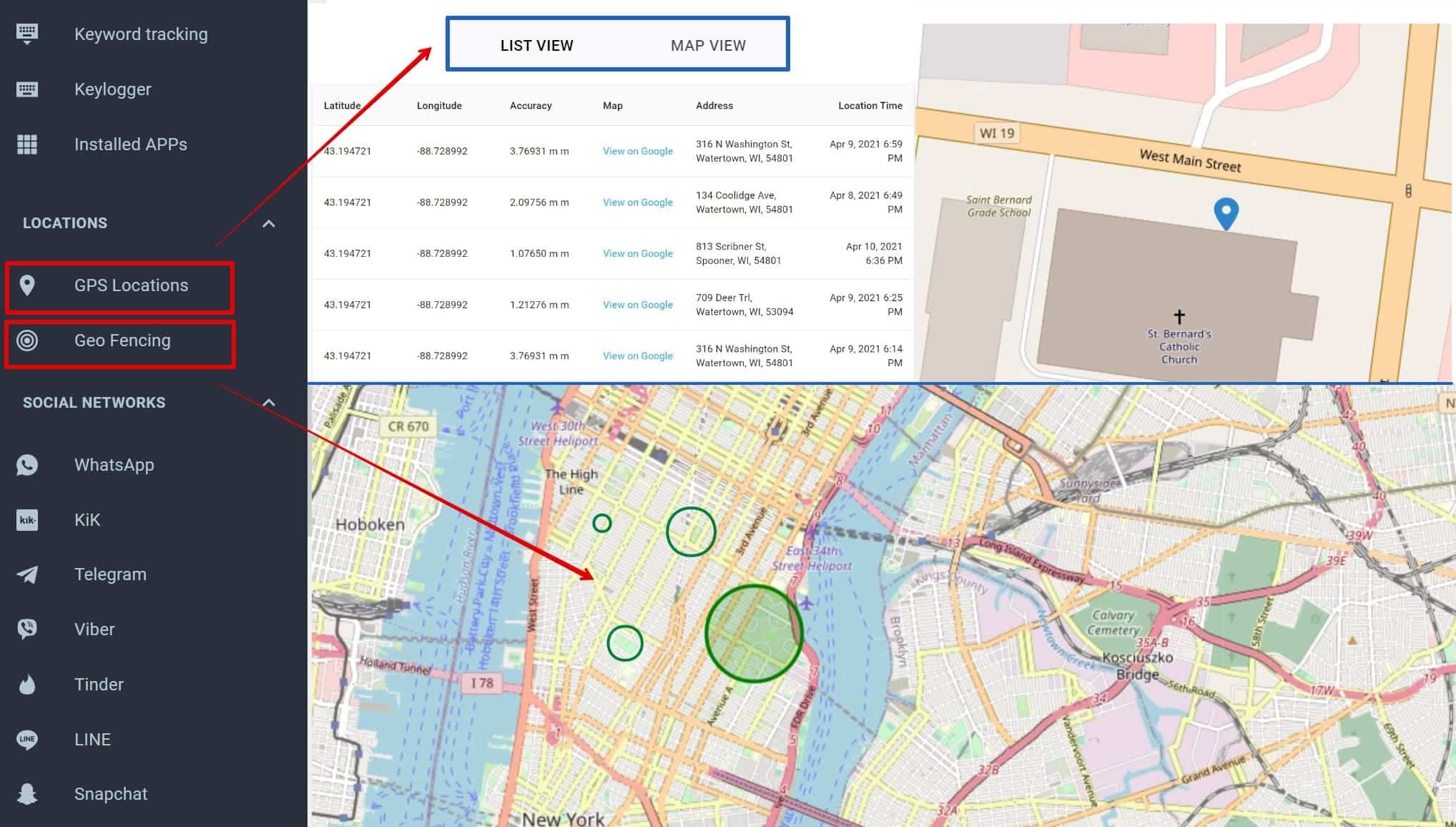 Using mSpy is pretty easy since you only need five minutes with the target phone to download mSpy. After setting it up, you can watch everything you want on the phone from the mSpy online control panel.
---
Conclusion
Google Find My Device is a credible service for finding lost and stolen Android devices. Its features can prove helpful if you're clumsy at home and need to locate a missing smartphone quickly. Find My Device features also work in case of a stolen phone, where you can track it down by following the device's current location.
However, Google Find My Device may have limitations if the phone is not connected to the internet or turned off. Moreover, it cannot track someone's location unless their Google account is linked to yours. This is where online tracking apps come in.
If you want to track someone's Android, read our article "Best phone tracking apps for Android".
Frequently Asked Questions (FAQs)
How does Find My Device work technically?
Find My Device uses a combination of GPS, cellular networks, and Wi-Fi technologies to send the phone's current location to Google servers. The most recent location will be available to the Google account linked to the device.
Does Google Find My Device work without the internet?
This service does not work if the phone does not have an active internet connection.
Can someone else use Find My Phone?
Unless someone else has your Google account password, or you are currently logged in to a phone that someone else is using, it's impossible for anyone to access Find My Phone on another person's device.