Affiliate Disclaimer
Our HeyLocate team is always on the lookout for new location-tracking software. This time around, we discovered Scannero. It is the newest phone tracking software, so it caught our eye. Why?
To start with, Scannero looks really cool. The dashboard reveals it stores some exciting features. But we are here to test its functionality and effectiveness. It's pretty intriguing because you will not need to install tracking software on the target phone to track it with Scannero. All you need is the phone number and follow a few simple steps on this new site.
Let's take a closer look at it in our Scannero review.
What Is Scannero Phone Number Tracker?
Scannero.io is one of the easiest cell phone tracking software on the web. It lets you track a target phone using the cell phone number only. While tracking a cell phone number using the phone number can be complex, Scannero lets you find out someone's location by entering their phone number and creating a custom text message.
Since Scannero.io is relatively new, it's yet to garner a following. As such, we did not find Scannero reviews on the web. However, that is soon to change based on the features we tested.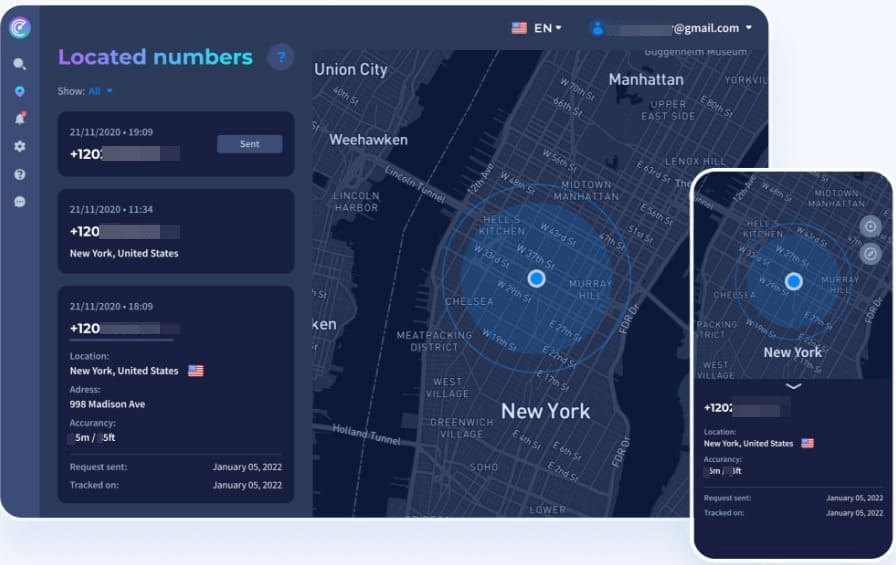 When you visit the Scannero.io website, you will find lots of helpful information on their blog. For example, you can learn how to find a location by phone number using Google Maps or how to track an iPhone by phone number.
Most importantly, Scannero answers users' questions, so you are not going into it blindly. You'll find out how to localize a phone number anonymously, and the steps are laid out so easy, anyone can use the site without being technologically savvy.

Is Scannero Legit or A Scam?
Scannero.io is owned by AVIWELL Limited, based in Geri Nicosia, Cyprus. This company is renowned as a reseller of cutting-edge technologies.
Now, the Scannero.io website was registered on 1st June 2022 as a location tracking service by phone number.
The website has a valid SSL certificate, and its domain is set to be renewed in 2024. An SSL certificate authenticates a website's identity and provides an encrypted connection for the safety of its users.
However, Scannero.io has a low trust score because it's relatively new. Websites must have been around for a considerable time to earn a high trust score based on monthly visitors.
We are not yet worried because the site is not yet popular, and we'll update you about its trust score in the coming months.
How Does Scannero.io Work?
In this section, I'll show you how Scannero works step-by-step.
Create an Account.
When I visited Scannero.io, I went to the section "Enter the phone number to track the location". I hit Locate, and Scannero.io indicated it was tracking the location of the number. A new window opened where I was asked to create an account.

After entering my email address, I was taken to the billing page. Scannero.io has monthly pricing plans, as you'll see below. Nonetheless, there was a trial plan for $0.89 which seemed automatic. I paid the fee and was led to the login page.

Log In and Send a Message.
After logging into my account, I found a search bar where I input the device's phone number I wanted to track.

Create a Custom Text Message.
Scannero.io has pre-set messages that I could send to the target phone. I opted to create a custom message. After clicking preview, Scannero asked to confirm the message and the phone number.

I hit send, and Scannero confirmed that the message was sent to the target device. It also indicated it would notify me once location tracking was successful.

Wait for the Person to Click.
Once the person with the target device receives the text message, they will have to click on the tracking link. The good thing is that Scannero does not reveal who sent the message. It displays as ProNet.

Nevertheless, the tracking link has Scannero in it. Hence, anyone aware of Scannero will know it's a location-tracking message.
Once the person clicks on the link, it will ask permission to use the target device's location.

After they click Allow, Scannero opens Google Maps on the target phone. As this happens, the Scannero software picks the device's location, and you can see it on the Scannero.io website.

See the Cell Phone Location of the Target Device.
I proceeded to check the status after sending the text message. It showed "GPS tracked". I clicked on it, and it opened the cell phone's location.

Scannero tracks the target device remotely and shows its location on a map. However, Scannero does not show the exact location of the tracked phone.

In addition, it only shows you the location of the phone at the time the person clicked on the tracking link. This means it does not offer real-time tracking. For that, you will need phone monitoring software like mSpy which can show you a phone's location in real-time.

Scannero software provides a general location and is accurate to 1000 ft. I used it to track someone's location with just the device's phone number. The service was private and turned out to be a reliable tool for tracking a cell phone without installing software.
Compatibility & Languages
Scannero works with all operating systems, including Android, iOS, Windows, and Blackberry. It is a reliable tool since it can track any phone number regardless of the device type, phone carrier, or country. I sent the tracking text message to an Android user, and they received the message immediately.
Since Scannero does not require an app, it will work on old phones too. Hence, it doesn't matter whether the target device is an iPhone 14 Pro or an old Nokia smartphone; you can track it. This is because Scannero uses mobile phone triangulation. The software will determine a cell phone's distance from the nearest cell phone towers.
As for the languages, Scannero supports English, German, French, Spanish, Italian, Portuguese, Turkish, and Polish.
Scannero.io Price
Scannero charges monthly for its location tracking service. However, there's a one-day trial option for $0.89. Scannero allows you to try out its features for 24 hours. If you would rather not be charged a monthly fee, it's best to cancel within 24 hours of the trial. If you wish to continue the service, Scannero will charge you a monthly fee of $49.80.
Scannero automatically renews your subscription at the start of the next billing period. You can cancel your subscription on the website or with the help of Scannero's support team. It's best to cancel your subscription at least 24 hours before the start of the next billing period to avoid being charged when your subscription renews.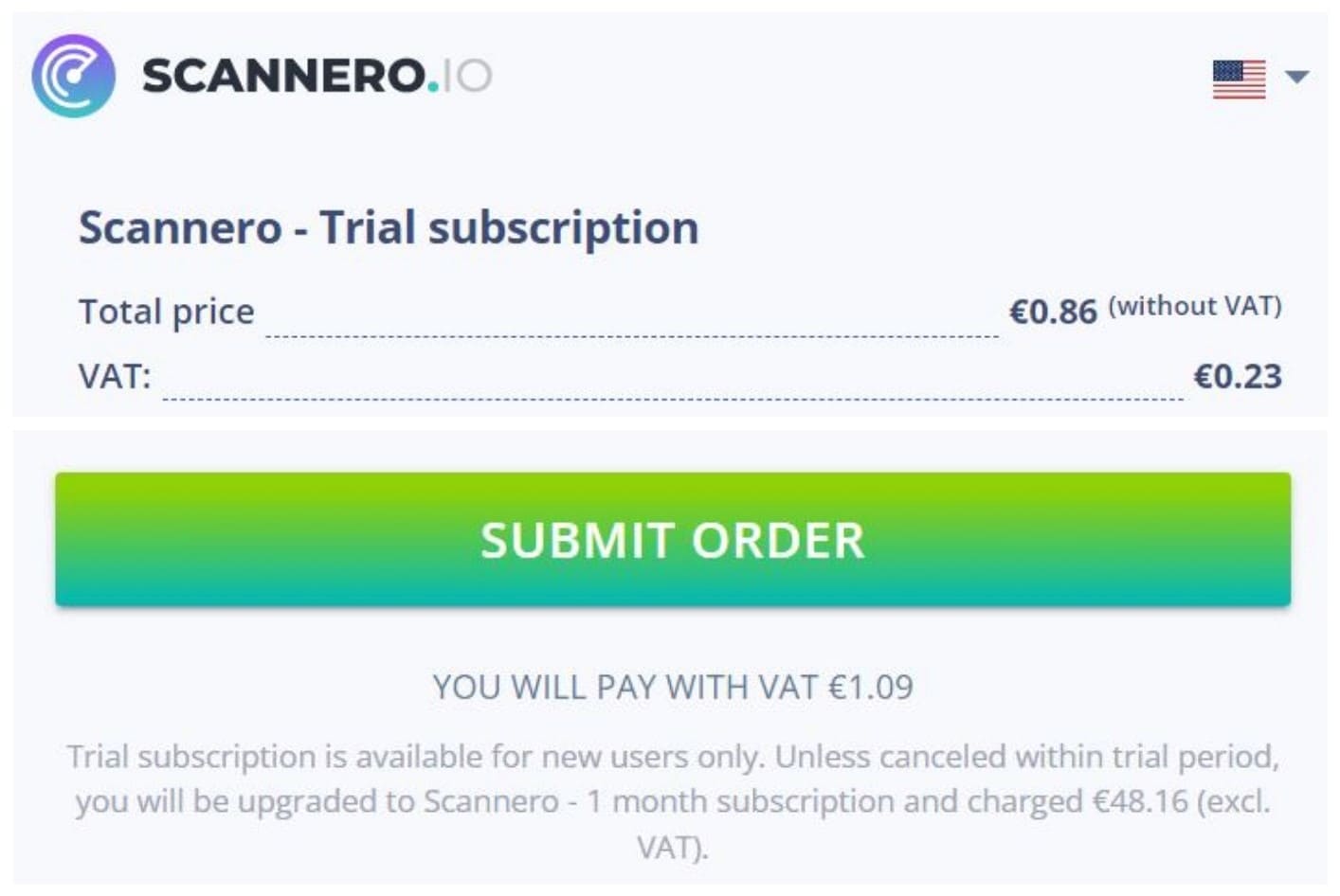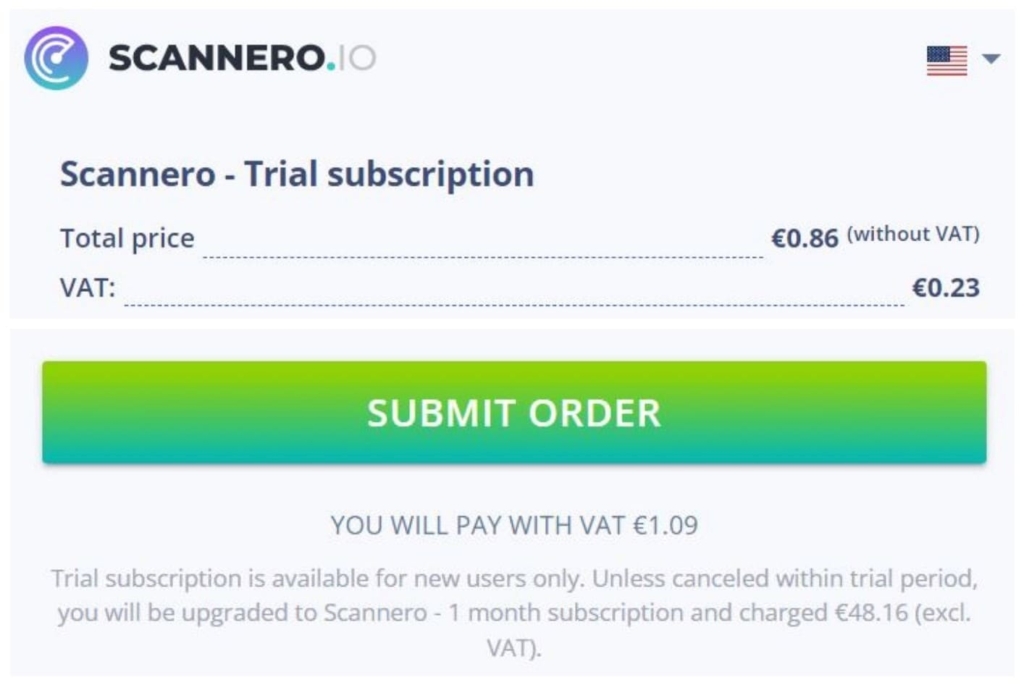 Scannero accepts payments using credit card services such as VISA, MasterCard, Discover, and American Express. The site's encrypted payment system ensures the transaction is safe, and no one can steal your data.
You can request a refund within 14 days from the day of payment if you are not satisfied with Scannero. Nevertheless, Scannero will not refund the payment if you forget to cancel the subscription before the next billing period.
Additional Features of Scannero
Apart from location tracking, Scannero has a host of other services.
Reverse Lookup
This service lets you perform a reverse phone lookup. You can enter someone's phone number, which will tell you who the number belongs to. Reverse phone lookup allows you to search someone's data using their username or phone number.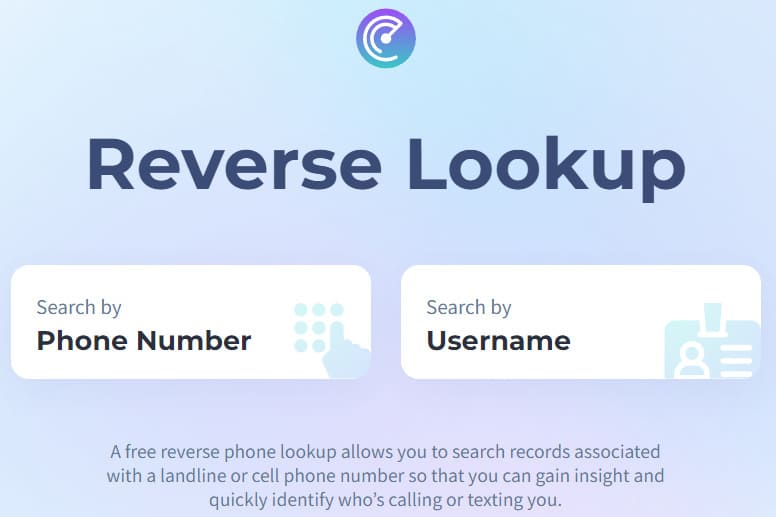 I found the search by phone number effective since people don't share phone numbers. Hence, Scannero could return results about the cell phone number's owner, but it found dozens of results using the username.
This means finding the information you want about a person using their name only can be a long process. Nevertheless, it is better than nothing.
Send Voice Message
This service sends a voice message to the phone number you input. I entered the target's cell phone number and then typed a custom message to send to the device. After I hit send, the person's phone will ring, and they will hear an auto-generated voice with the message.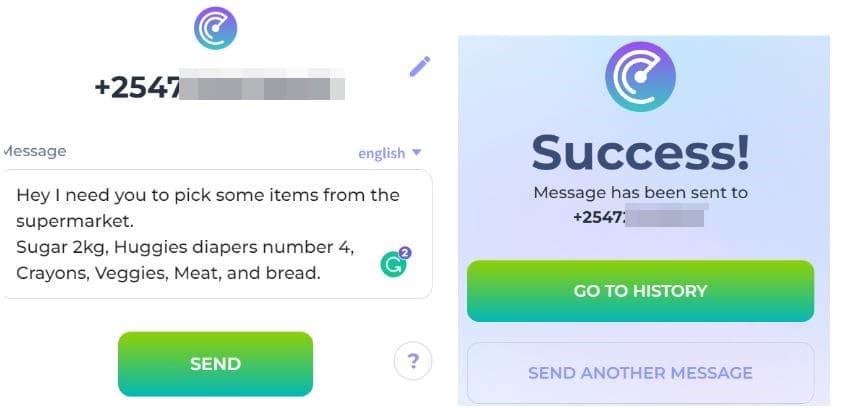 I don't actually know why you may need this function for personal use, but when you buy a monthly subscription, it's cool to have as many features as possible. Whether you want to send a short or lengthy message, you only need to type it, and Scannero will deliver it.
Data Leak Checker
A data leak checker is another feature of Scannero that checks if any of your accounts' data has leaked. You can see all the breaches and the source of the leak if Scannero can find it.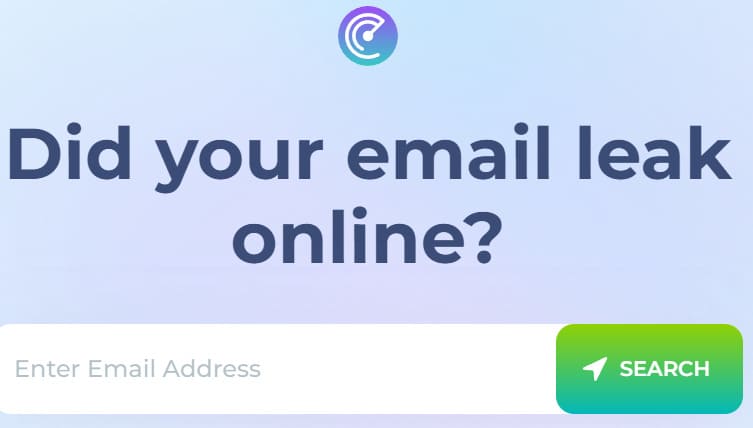 I tried the data leak checker with all my accounts, and here are the results.
The data leak checker can also check leaked information using your phone number. I tried it. And here are the results.
As you can see, Scannero has more features to offer. It's not only for location tracking using a phone number.
How Do I Unsubscribe from Scannero.io?
If you want to unsubscribe from Scannero, you'll need to go to your account's information in the top-right corner of the Scannero.io website. Click on "Cancel" and slide the Auto Renewal Function to "OFF."
If you leave the Auto Renewal function ON, Scannero will charge you the monthly fee automatically.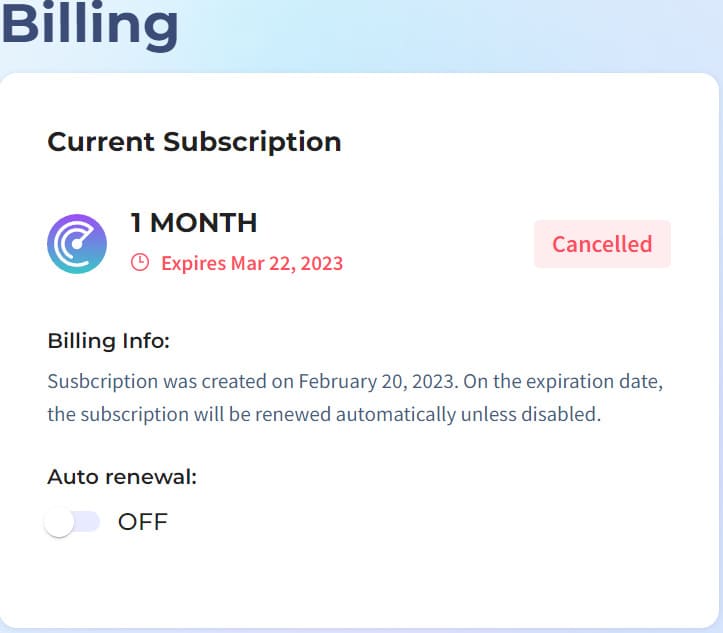 To this end, if you encounter problems with unsubscribing, you can get help from the Scannero support team. We did notice that Scannero takes hours to reply to messages.
Scannero.io Pros and Cons
So, let's sum it up:
Pros:
offers a one-day trial;
no need to install tracking software;
it's compatible with all operating systems;
allows inputting a customized message.
Cons:
provides target device's general location;
customer support could be better.
Conclusion
Scannero.io makes tracking a cell phone location using its phone number a breeze. It is not tied to any phone model, OS, or carrier. All I needed was a phone number and sending a customized text message.
I got the results I wanted. But you need to remember that results depends on if the person clicks the link. Nevertheless, it is anonymous.
The other features of Scannero also work perfectly. I recommend Scannero for tracking a mobile phone without installing software, checking someone's info using their phone number, leaving voice messages, and checking data leaks. Try it by yourself.
Frequently Asked Questions (FAQs)
How can I track someone's location by their phone number online?
You can track someone's location by phone number online using different web-services, for example, Scannero.io. You don't need to install any app on your or the target's device.
How do I find a phone number on Google Map?
You can only find a phone number on Google Maps if that person's number is in your contacts list. Sign in to your Google Account and search for a contact name or address. All their matching contacts and contact details will be at the bottom of the screen.
Can you secretly track someone's location?
Yes, you can secretly track someone's location. For example, you can use Scannero.io to get their location using just their phone number. Still, they will need to click on the tracking link, so it's best to create a persuasive anonymous message that will incentivize them to click on it.