Affiliate Disclaimer
Searqle is a new service for instant people lookup and data search. It lets you type in someone's name, address, or email to start confidential people search and access in-depth information about yourself and those around you.
Our HeyLocate team tried the Searqle people search engine to see all its features and capabilities. Although there are a few search engines providing people checks, such instant people lookup and data search sites are still up-to-date.
The reasons to use a search engine like Searqle are listed below:
Finding a long-lost friend or relative with Searqle – nearly 59% of people have lost touch with friends, according to the American Perspectives Survey.
Searqle lets you know the person behind an unknown call or email – Americans lost almost $8.8 billion to scams and fraud in 2022, up 30 percent over 2021's losses, according to the Federal Trade Commission (FTC).
Searqle finds out a person's criminal history – note, that one in three Americans has a criminal record, according to Analysis of Bureau of Justice Statistics data by The Sentencing Project.
Screen someone with Searqle before meeting them for the first time because you never know – nearly 70,000 people reported a romance scam, and reported losses hit a staggering $1.3 billion in 2022, according to the FTC's Consumer Sentinel Network (Sentinel).
Protect your identity via Searqle check – the FTC received over 1.1 million identity theft reports in 2022. You can use a people search engine to ensure that no one else is using your identity.
Expand your client base with the help of Searqle – networking is super important when growing your business. People search engines allow you to connect to potential clients and business owners.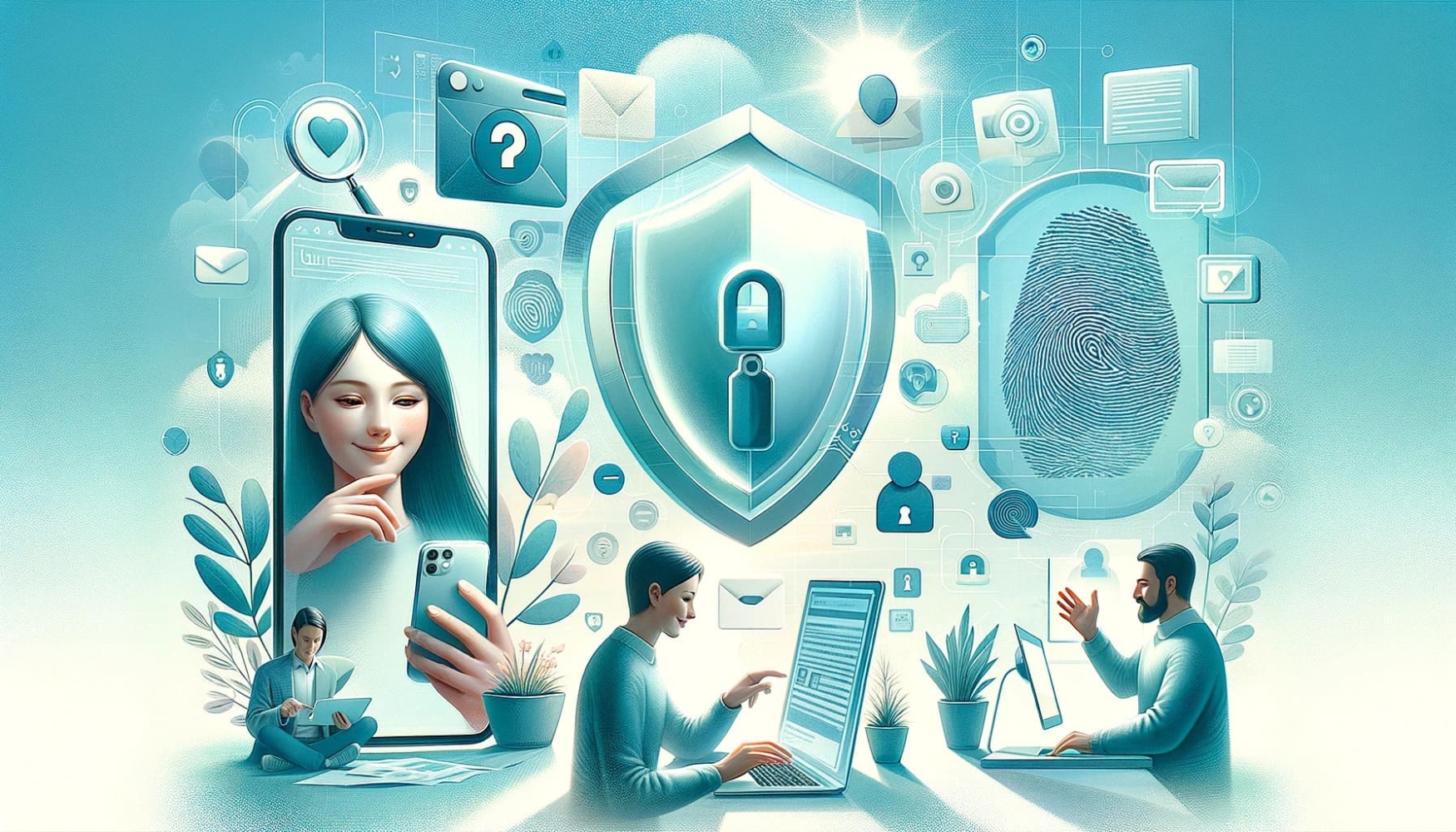 This Searqle review will reveal the various features of this people search engine: person lookup, reverse phone lookup, email lookup, reverse address lookup, sex offender check, criminal records search, company search, web search, background check and VIN lookup. Let's check how they work.
Quick Review of Searqle
Our Verdict: Reliable search tool for checking people's details. Still, for now, it has limited data on individuals making a good choice when searching for basic information.
Founded: March 2023.
Online Rating: Not yet rated as of the date of this review.
Compatibility: All devices and operating systems.
Price: $44.99/mo, 28.33/mo for the three-month plan.
Trials/Coupons: Three-day $1 trial.
Refund policy: Within 14 days from the payment date.
What is Searqle?
Searqle is a new people search tool by Outlimit Inc., a Delaware-based company. Searqle platform was established in March 2023. The service collects information from public records and has millions of databases from where it takes the information you get when you search the site.
Since Searqle is still a new search engine, it has no social media presence. We will update this review once Searqle establishes its social media accounts.
Is Searqle Legit and Safe, or a Scam?
Searqle is legit, safe, and not a scam. Our investigations about Searqle led us to find its valid SSL certificate. It's also safe, according to DNSFilter, and it does not contain any phishing or malware, according to Flashstart.
Searqle works with 500m+ name records, 157m+ phone records, and 500m+ address and email records. It has dozens of user reviews on its official site. Many users find it satisfactory, saying it has helped them identify unknown callers, avoid telemarketers, and perform background checks on new people.
How Does Searqle Work?
Searqle uses the user's input name, phone number, email, or address to aggregate information from diverse online and public sources, compiling a comprehensive data report.
All searches except for reverse email lookup and web search work for US residents only. This is because the site uses data from US public records, regulated by the US law. Email lookups and web search work even for users outside the US, since emails and usernames are used to log in to social media sites. Searqle has access to records from social media sites.
Let's look at how to use the Searqle search engine for various searches. Remember that Searqle may not always find information in all the following categories for everyone. The results in your report will depend on the available information.
Person Lookup – Scores 8.5/10
The people lookup feature lets you find relevant information about someone using their name. Searqle promises it can find details like a person's full name, phone number, current address, past addresses, birthdate, aliases, and relatives.
This people finder tool required the first and last name of my target and the state they are registered in. The search produced two results showing the persons' location and gender. I clicked on the first result, which displayed the individual's full name, city, zip code, and current address.
Unfortunately, the first search result had no data on their job info, criminal records, emails, or family records. However, my second search had only one result. It included the individual's phone number, city, and email address.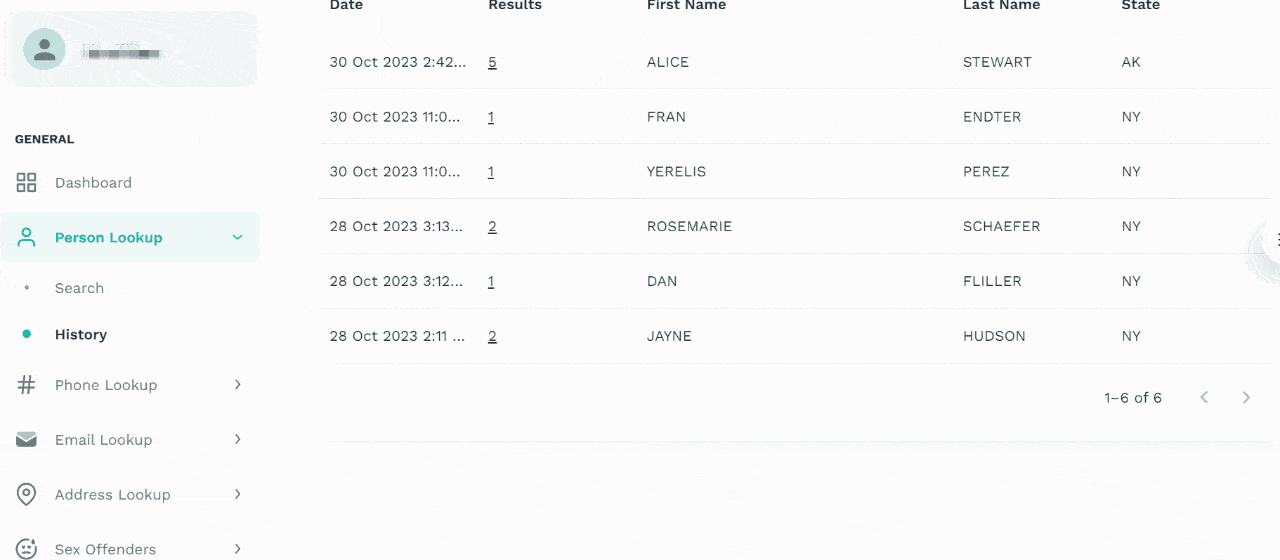 Based on my experience, Searqle is an excellent search engine when you need to find out someone's phone number when you only have their name. It can also give you their location, physical address, and employment history if the data is available. Unfortunately for me, both searches did not find data with full contact details, court records, and family members using the person lookup feature.
---
Reverse Phone Lookup – Scores 8.0/10
Reverse phone lookup shows detailed personal information about the person using their phone number. If you have a phone number and have no idea who it belongs to, Searqle reverse phone number search can help.
Searqle's phone lookup was fast. I chose the phone lookup option and entered the desired phone number, including the area code without brackets. Searqle gave me multiple results, I don't know why. I'm guessing the number belongs to a team.
Once I selected a single result, it gave me the person's full name and other available information. In addition, it showed me their address, but there was no available data on their job info, education, autos, criminal records, emails, and family members.
I tried a few other phone numbers, but it gave me a "not found" feedback. This search feature was similar to a free people search engine, since it did not provide a background report with the search results. Nevertheless, I could access unlimited reports using the lookup phone numbers feature.
---
Email Lookup – Scores 8.0/10
Email lookup lets you know more about the owner of the email address. Once I entered the desired email address on Searqle's email lookup form, it took about two minutes to get the results. Searqle gave me the owner's name, city, ZIP code, and address.
The best feature of Searqle's email lookup is that it works for email addresses of people not only in the USA. It gave me accurate data, since an email address belongs to one person only.
However, it did not have data on lots of the emails I tried, which, again, seems like its database is still a bit limited. However, it did not have data on lots of the emails I tried, which, again, seems like its database is still a bit limited.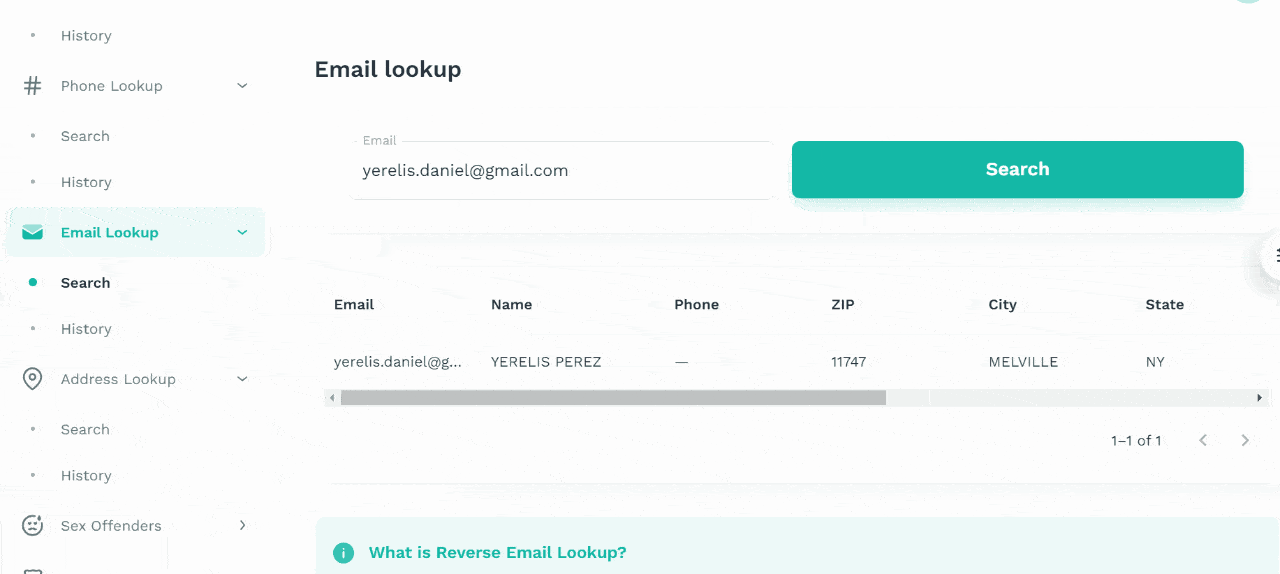 ---
Reverse Address Lookup – Scores 8.0/10
A reverse address lookup with Searqle promised to provide me with information about current property owners or residents of a home or business using a specific street address. Once I entered the desired address, Searqle returned results with the owner's full name, date of birth, PO Box, and court records.
Searqle found no other information regarding the street address I gave it. It did not provide me with the property records, such as the owners' history or past residents of the properties I searched on the site.
But that was my case, it depends on the address you search and the information available in the open sources online.
---
Sex Offender – Scores 9.0/10
Searqle has sex offender records for various areas. If you enter a search, it will show you the registered sex offenders in that area. Searqle allowed me to search for sex offenders by name, ZIP code, and geographical location.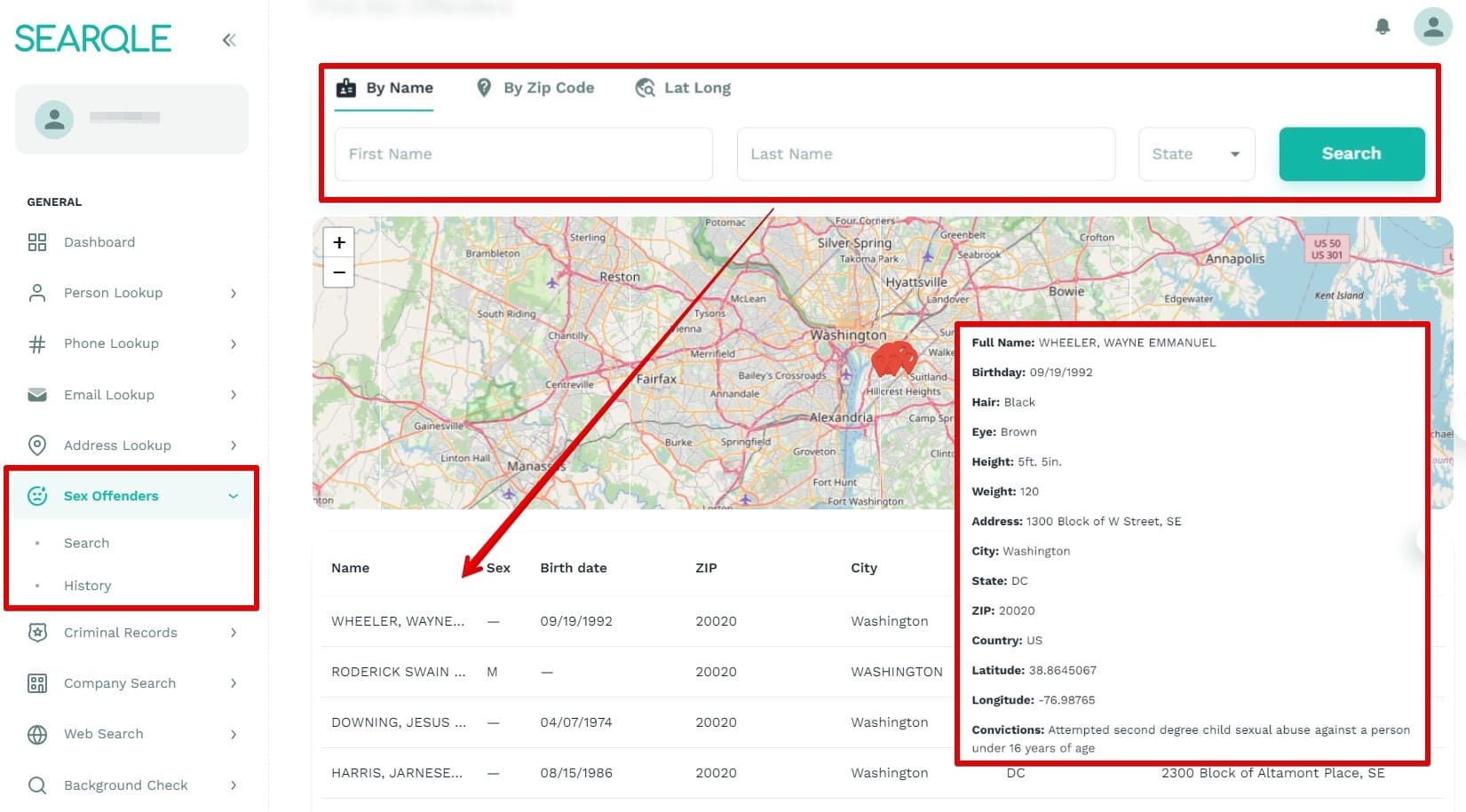 The name search option was hit-and-miss, since it did not generate results for the names I searched. Nevertheless, the ZIP code search gave me a long list of sex offenders registered in that specific area. When I clicked on one of the results, it revealed the person's full name and image. It also showed their city, whether they are incarcerated, aliases, and convictions.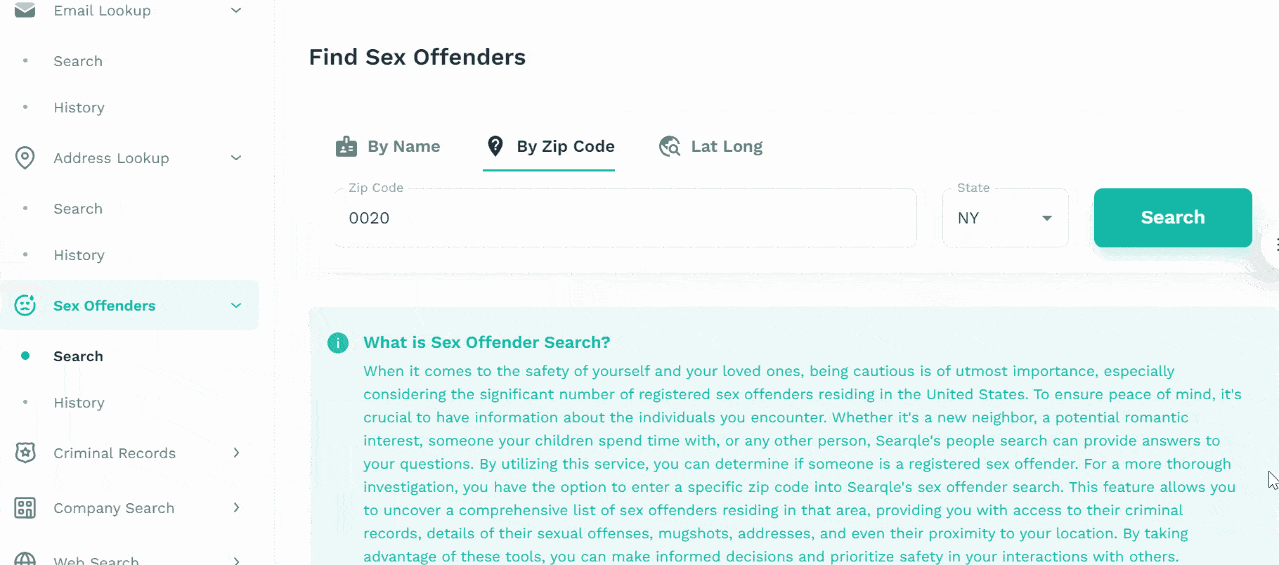 Searqle does one of the best sex offender registry checks in the industry. If you are moving into a new location and would like to find out whether someone in the area is on the sex offender register, Searqle is an excellent resource.
---
Criminal Records – Scores 8.0/10
A criminal records search on Searqle is a long process. First, you only need to input the first and last name of the individual. Thereafter, you'll need to narrow down to the exact person by searching the results individually.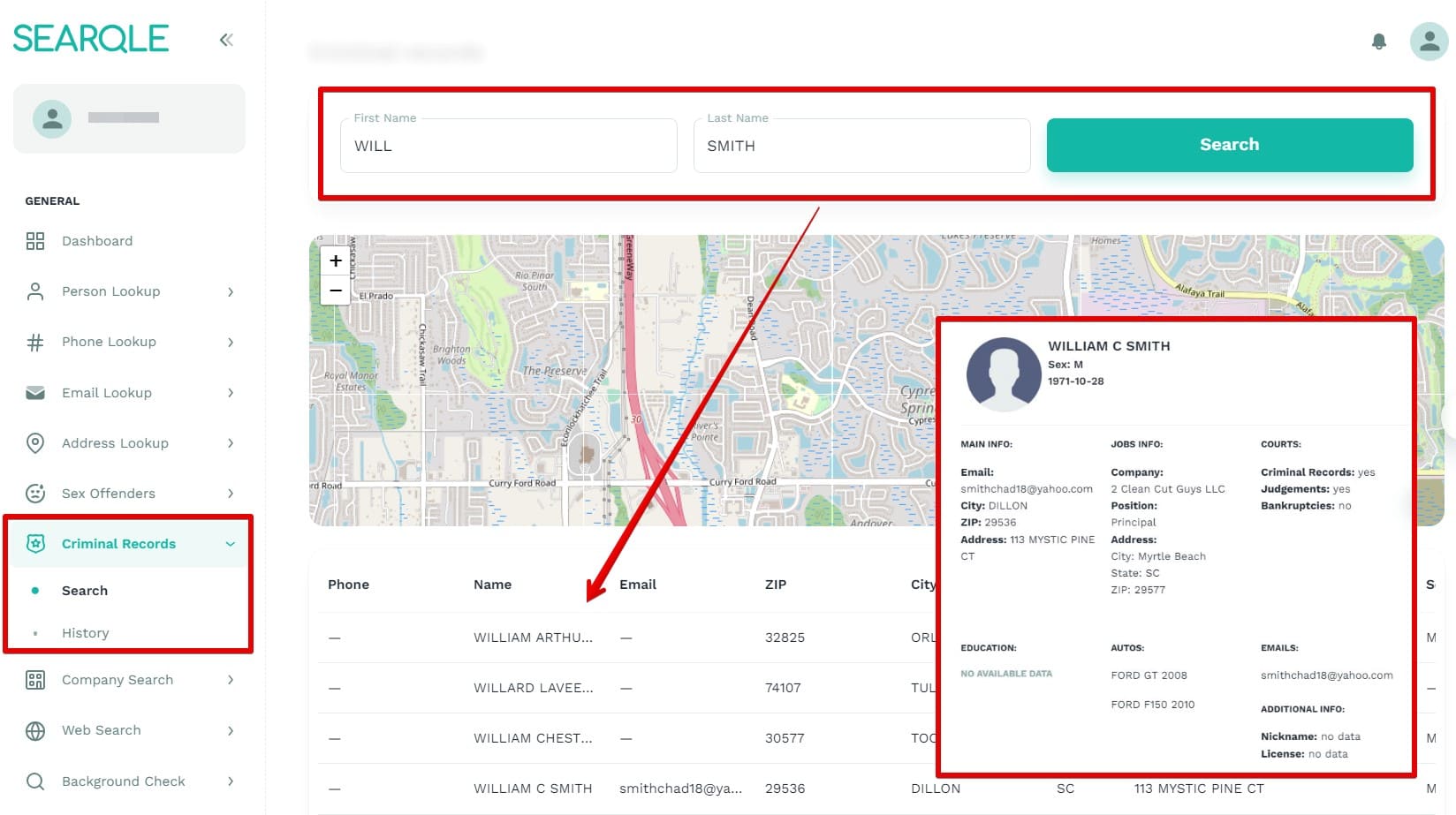 After I entered the desired name, Searqle produced 963 pages with people with similar first or second names to the person I wanted. Thus, it took longer than other people search engines that allow you to input the person's location and phone number when searching for a criminal record.
Searqle showed results with the individual's court records, city, address, and ZIP code. I would have liked it if it had shown the person's criminal history and convictions.
---
Company Search – Scores 9.0/10
A company search was another area where Searqle excelled. I put in the name of a company, and it produced all the people associated with it. Searqle included that company's city, phone number, address, state, and industry.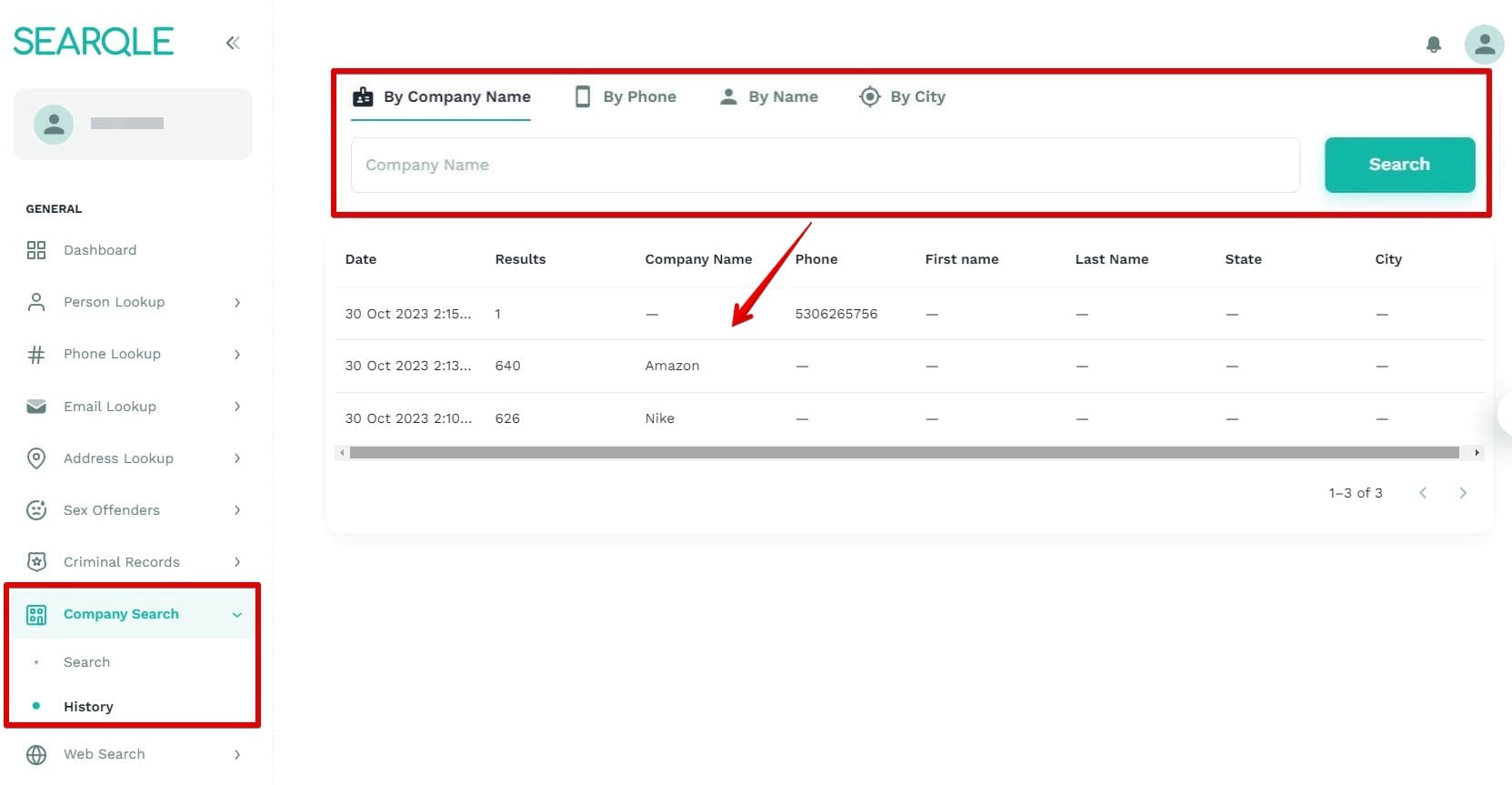 When I searched for a company by phone number, it gave me its full name, city, address, state, and industry. Searqle is more thorough in the company search and proves helpful if you want to verify if a business exists, especially when dealing with online sellers.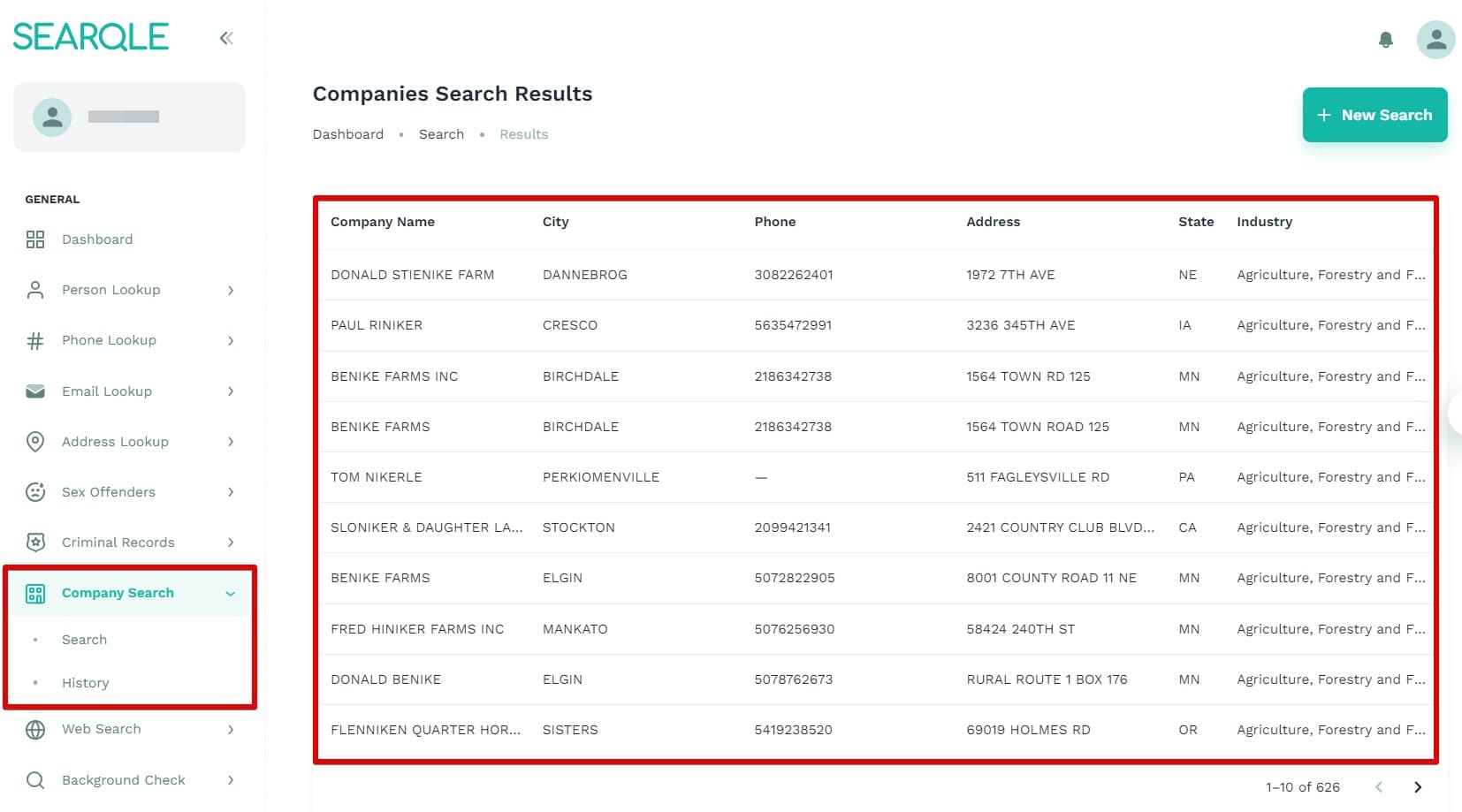 ---
Web Search – Scores 9.0/10
I entered the username I wished to search for, and Searqle search results revealed data with all the websites associated with that particular username. My search had eight results for one username. A single result revealed the website's status, country, language, rating, and rank. In addition, I could visit the website directly from the link that Searqle provided.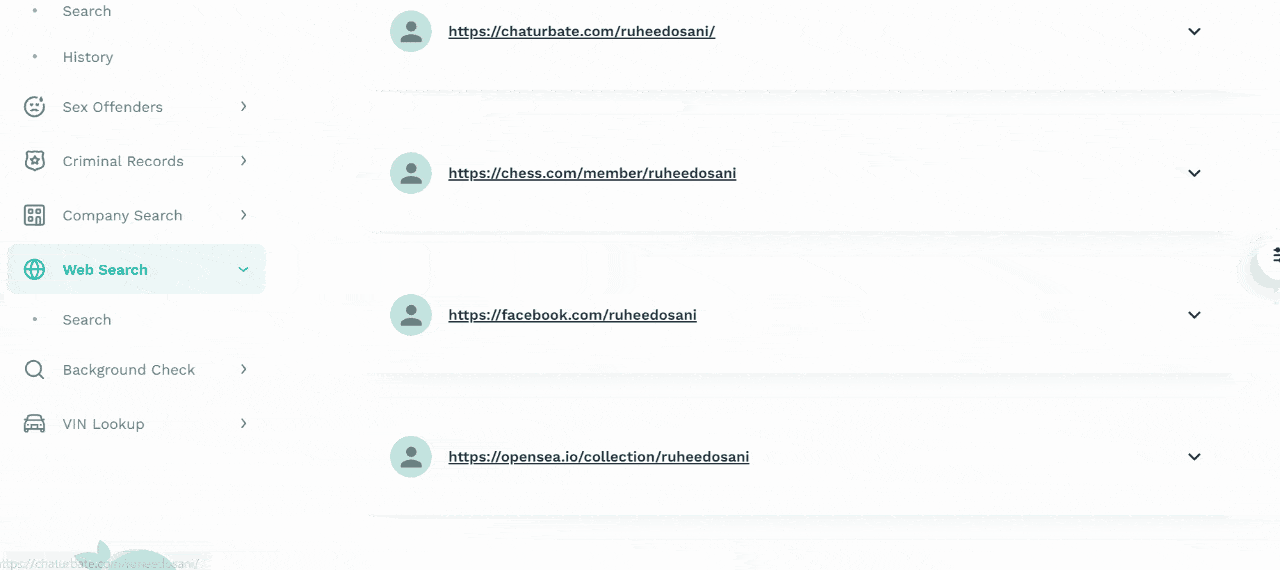 Searqle is of great help when you search for people using usernames. Its valuable information will lead you to their profile or website, so you don't have to search further using standard search engines like Google and Bing.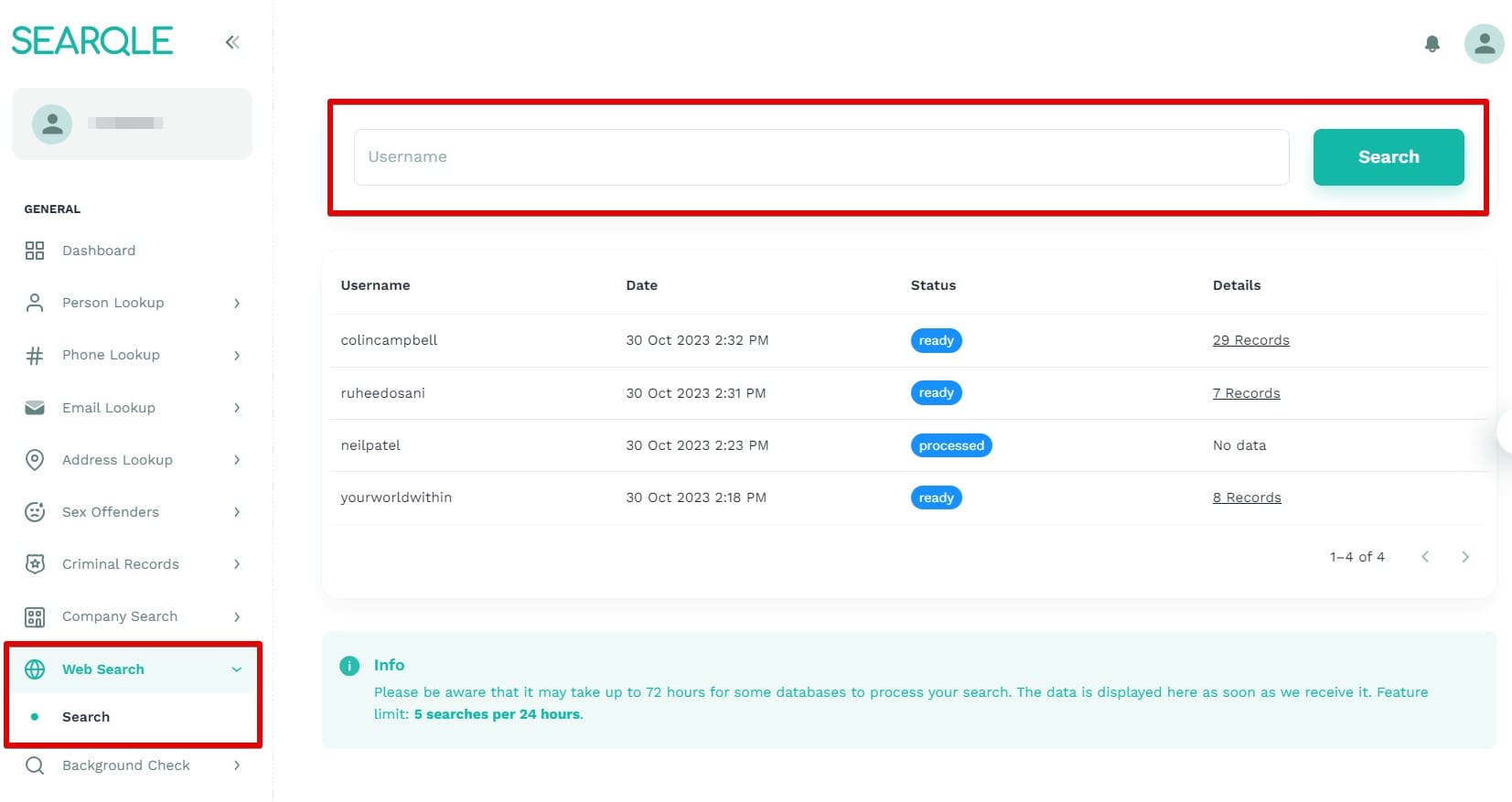 ---
Background Check – Scores 8.0/10
A background check verifies a person's information from private and public sources. While Searqle can help you perform a background check on an individual, you cannot use its background reports when hiring someone. Searqle is not a consumer reporting agency but adheres to the Fair Credit Reporting Act.
A background check on Searqle revealed the arrest records of an individual. It showed me their address and convictions in the person's file. I would have loved it if the results were more detailed by including their employment records, location history, certifications, and social media accounts.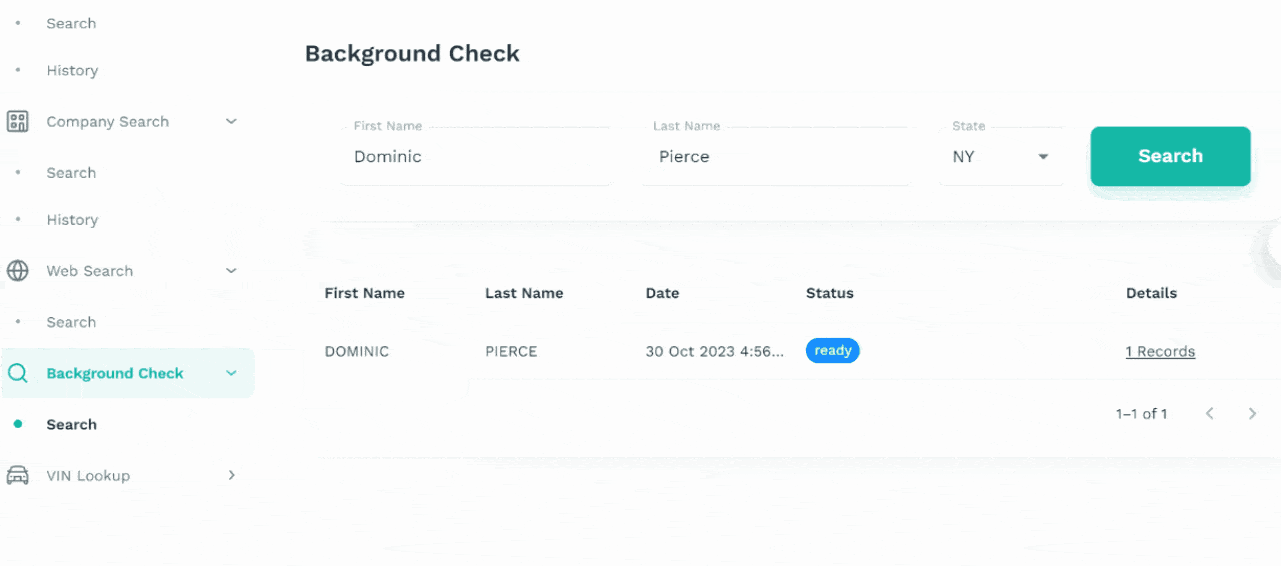 ---
VIN Lookup – Scores 8.5/10
A VIN (Vehicle Identification Number) lookup is a method used to retrieve detailed information about a specific vehicle. Each VIN is a unique code consisting of 17 characters, including both letters and numbers, that serves as a distinctive identifier for individual vehicles.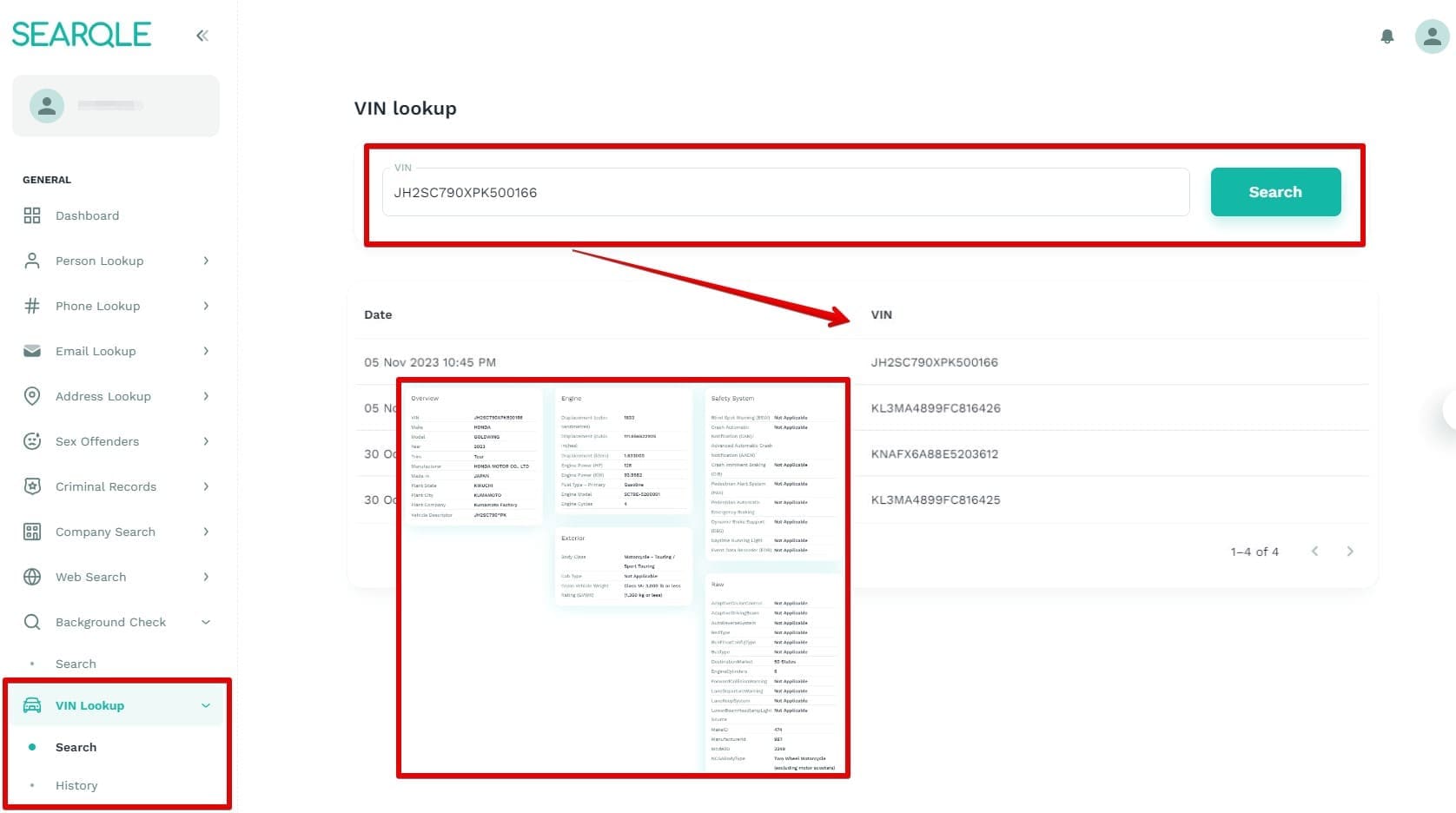 I used Searqle to search for details about a car using its VIN. Again, Searqle was of great help as it revealed detailed information like the make, model, year, manufacturer, and its "Made In" country. This site gave me detailed reports about the car's engine, safety system, and exterior.
While I liked the car details provided by Searqle, I did not find information that could help me trace its warranty claims, registrations, recalls, insurance coverage, and thefts. It left out some crucial details that could lead you to want to know about a car, such as its history.
---
Searqle Price
Searqle is a premium people finder with two types of payment plans. A regular monthly plan costs $44.99 per month, while a three-month plan costs $28.33 per month, paid quarterly. Searqle has no trial period, and we could not find coupons for the site.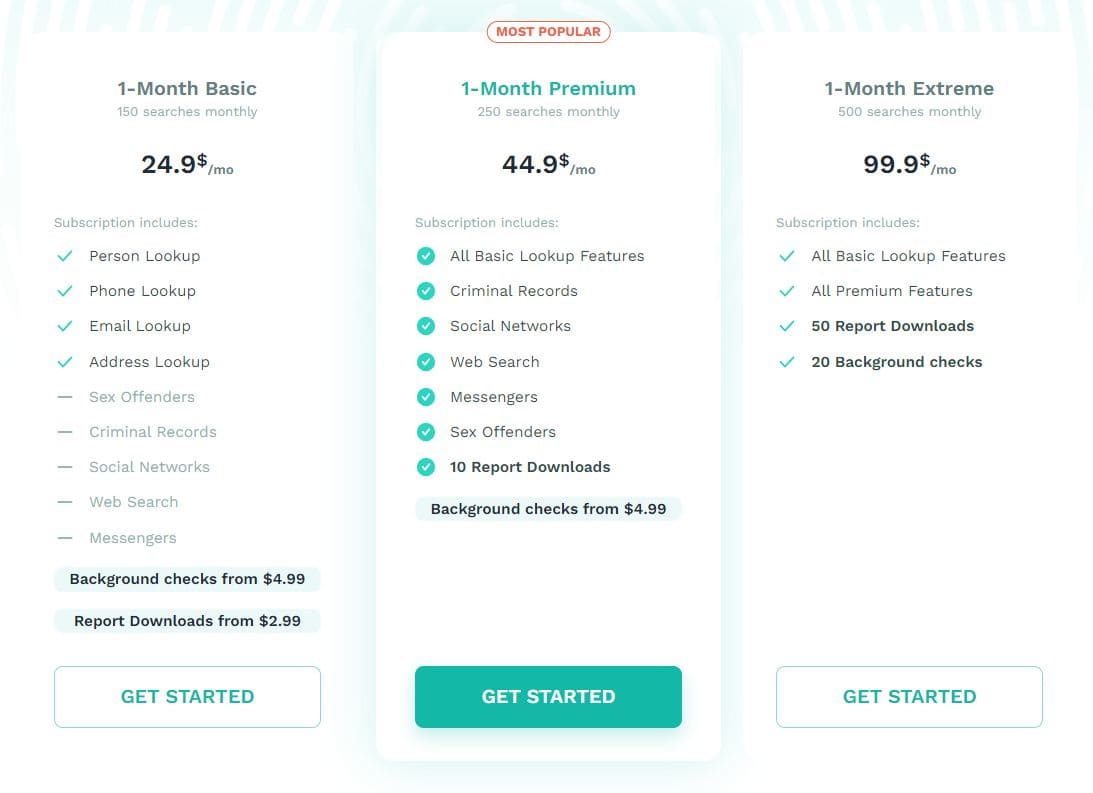 Note that the regular monthly plan does not include background checks, social network access, and downloadable report files. These features are only available on the three-month plan. If you want to check out the service before committing to a monthly plan, Searqle offers a three-day trial for $1.
How to Opt out of Searqle
You can opt out of the site by proving your identity and providing the requested information on the opt-out information page, if you do not want your information on Searqle.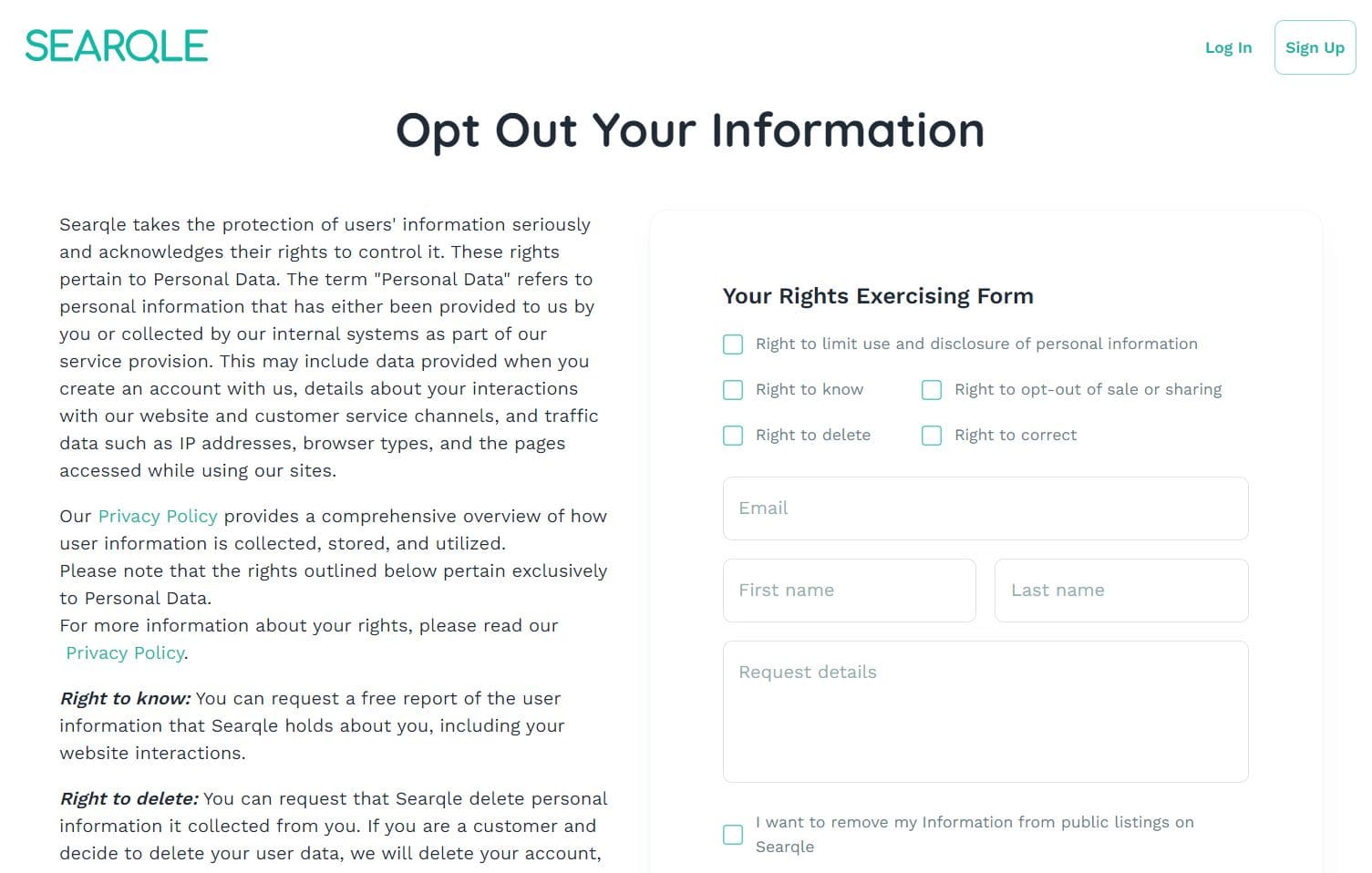 Searqle allows you to request a report about the information it has about you. Additionally, you are entitled to request the deletion of your information as required by law.
Once you opt out, Searqle will no longer share your information with site users.
Searqle Customer Service
Searqle customer service is available via online chat or by filling out an online request form. You can also call their cell phone at +1 (877) 606-8787.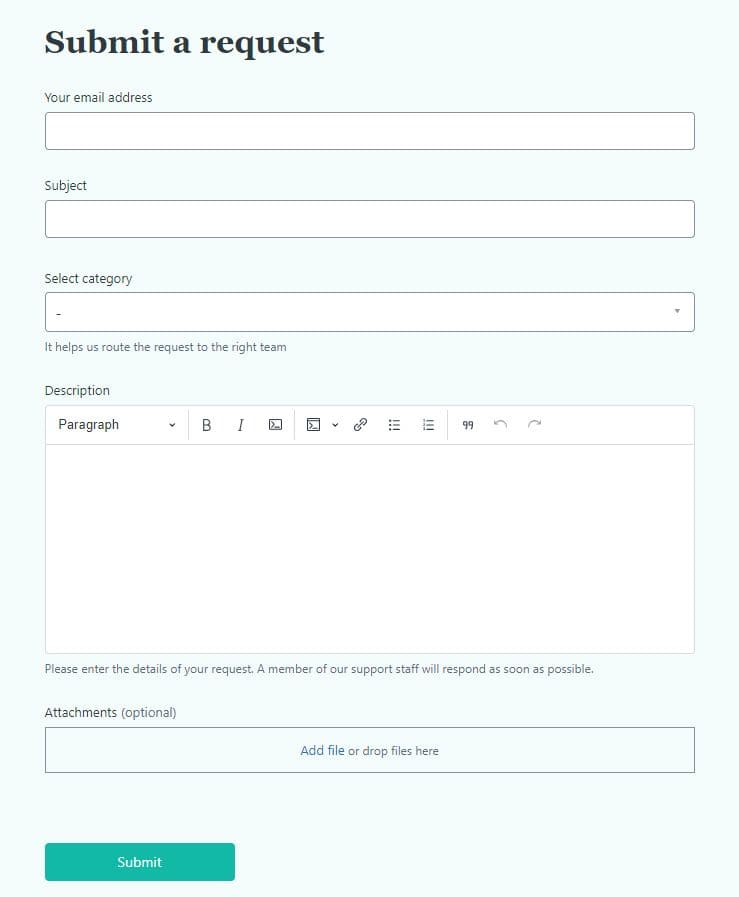 Searqle VS TruthFinder VS Intelius
Searqle, TruthFinder, and Intelius are all people search engines that allow you to find a person using their name, phone number, email, or address. Both TruthFinder and Searqle have reverse email searches, while Intelius does not. Searqle is the only search engine that has a VIN information checker.
The three sites can perform individual background checks on a person, and you can also find attached background reports for each search. Nonetheless, since it's still new, Searqle's database is not as vast as TruthFinder's or Intelius's. Thus, you may find that some searches on Searqle only produce basic reports such as the person's full name, location, and phone number.
The comparison of review scores and information you can get with each of these services is in the table below:
Service
TruthFinder Score and Test Results
Intelius Score and Test Results
Searqle Score and Test Results
Person Lookup
9.0/10
aliases; relatives; social media accounts; assets; background information
9.0/10
personal details; criminal records; location history; social media accounts; criminal and traffic records
8.5/10
full name; city; zip code; current address; phone number email address
Reverse Phone Lookup
9.0/10
phone details; location history; social media accounts; background report
9.5/10
full name; aliases; associates; social media accounts; contact details; location history; employment history; businesses; finances; assets
8.0/10
owner's name; address; city; zip code
Public Records Search
9.0/10
birth and death records; arrests; criminal records; liens; bankruptcies
n/a
n/a
Reverse Address Lookup
–
9.0/10
address's map; residents; ownership history; crime statistics; neighbors; eviction history; census and demographics; sex offenders list in the area
8.0/10
owner's full name; date of birth; P.O Box; court records
Email Lookup
–
–
8.0/10
owner's name; city; zip code; address
Sex Offender Check
n/a
n/a
9.0/10
list of registered sex offenders; person's full name; city; incarceration status; aliases; convictions
Background Report
9.0/10
personal information; businesses; location history; social network data; family members
9.0/10
owner's contact; education history; employment records; professional licenses; location; criminal history ;past addresses; social media presence; certifications
8.0/10
address; arrest records; convictions
Criminal Records
–
–
8.0/10
court records; city; zip code; address
Company Search
n/a
n/a
9.0/10
full company name; phone number; address; state; company's industry
Web Search
–
n/a
9.0/10
website status; country; language; rating; rank; link to associated website
VIN Lookup
n/a
n/a
8.5/10
car's make; car's model; year; manufacturer; "Made In" country; car's engine; safety system; car's exterior
Try TruthFinder
Try Intelius
Try Searqle
(-) shows features that we did not test on that platform
(n/a) – indicates that particular feature is not available on that platform
You can see full reviews of TruthFinder and Intelius in the HeyLocate blog:
Searqle Pros and Cons
The advantages and disadvantages of Searqle People Finder are listed below:
Pros:
finds available public information;
safeguards personal data;
provides recent and accurate information;
finds links to social media websites;
can help you verify a person's identity;
performs comprehensive VIN lookup;
provides individual criminal records and sex offender checks;
you can reconnect with an old friend or lost relative.
Cons:
lacks a filter for criminal records search;
does not have free reports;
lacks some search options on the monthly premium plan.
---
Conclusion
Searqle is a reliable people search engine. You can use it for various purposes, like verifying a person's identity, knowing an individual's criminal history, or finding a long-lost loved one. Moreover, it's a great option for checking information about a car using its VIN, and you can learn whether someone is on the sex offenders register.
Finally, Searqle performs comprehensive criminal records checks that prove useful when you are meeting with a new person online.
If you want to skip lengthy and expensive public search processes, Searqle is a great place to perform your search. Obviously, it has what to improve and we wait for the next Searqle updates.
Frequently Asked Questions (FAQs)
How much does it cost to search on Searqle?
Searqle offers a three-day trial for $1 to perform a comprehensive search. You can opt for a monthly plan that costs $44.98 or a three-month plan for $28.33 per month, paid quarterly.
Does Searqle notify the other person when you search them?
Searqle performs private searches and does not notify a person that you've searched them.
How trustworthy is Searqle?
Searqle is a trustworthy site that collects information from open public sources. It provides information for general use and prohibits users of the site from reselling the information obtained from the site.
Why would someone use Searqle?
Is Searqle only in the US?
Searqle offers searches for US-based individuals as it collects data from US public records, as regulated by the US law. Still, it can find some social media information about any person in the world via their email or username.
Who owns Searqle?
Outlimit Inc., a Delaware-based company, owns Searqle.