Affiliate Disclaimer
TruthFinder is a well-known reverse phone lookup and background check service. However, the popularity can be justified and inflated. That's why the HeyLocate team decided to try it and tell you the truth.
I will use my friends' names and phone numbers, and even try out some celebrities' names to see the information the service turns up. So, buckle up, and let's find out if you can depend on Truthfinder to find out information about yourself, loved ones, and even strangers.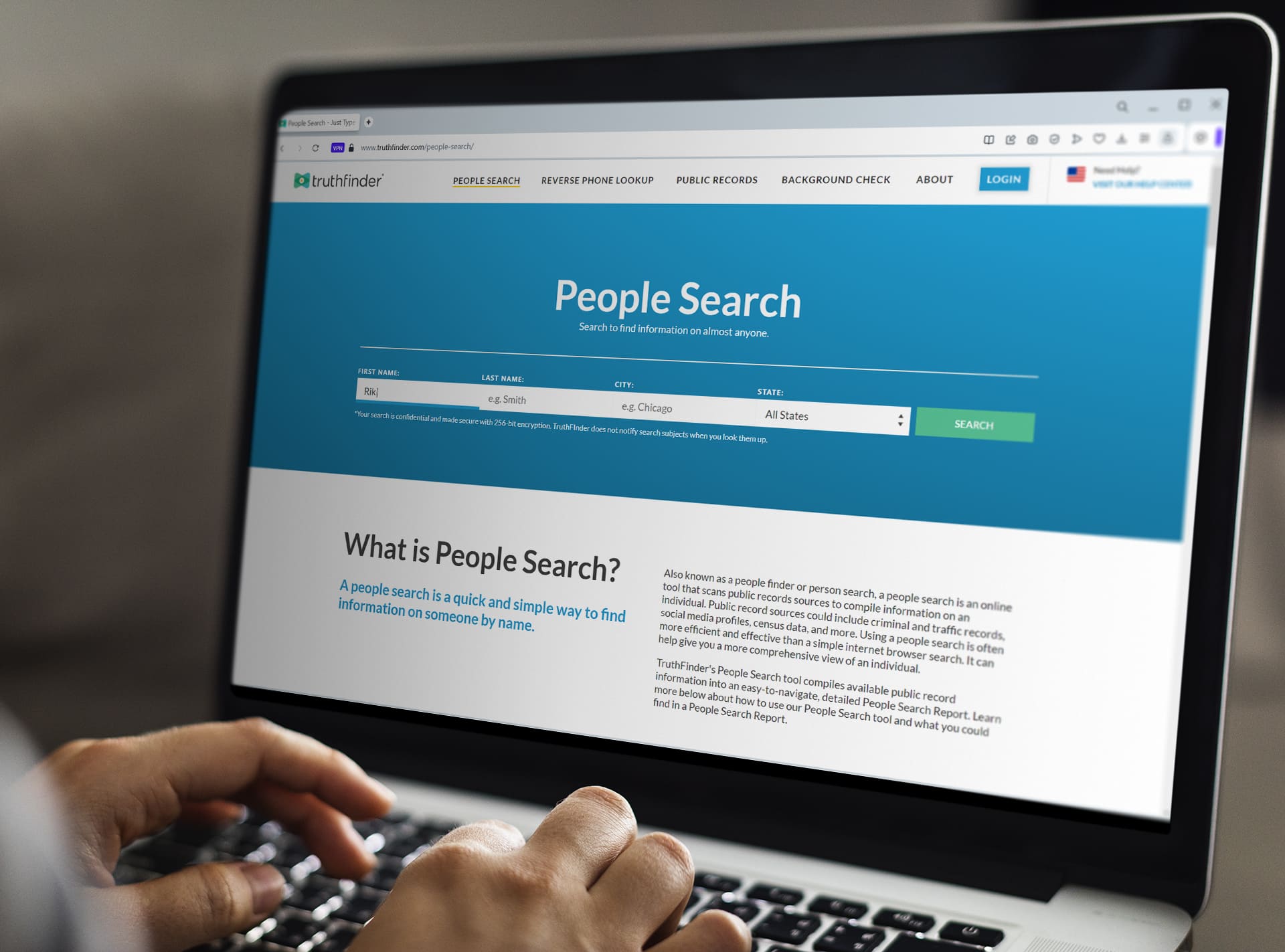 What Is TruthFinder?
TruthFinder is a background check service and reverse phone lookup platform. It was founded in 2015 by entrepreneurs Joey Rocco and Kris Kibak in San Diego, California. The parent company PubRec is a leading provider of B2C information services, which include online background checks and reverse phone lookups.
TruthFinder has a Youtube channel that helps users understand how the service works and gain insight into the various ways they can benefit from TruthFinder. Truthfinder's self-help articles cover everything from how to run a background check to how to find someone's criminal records on the platform.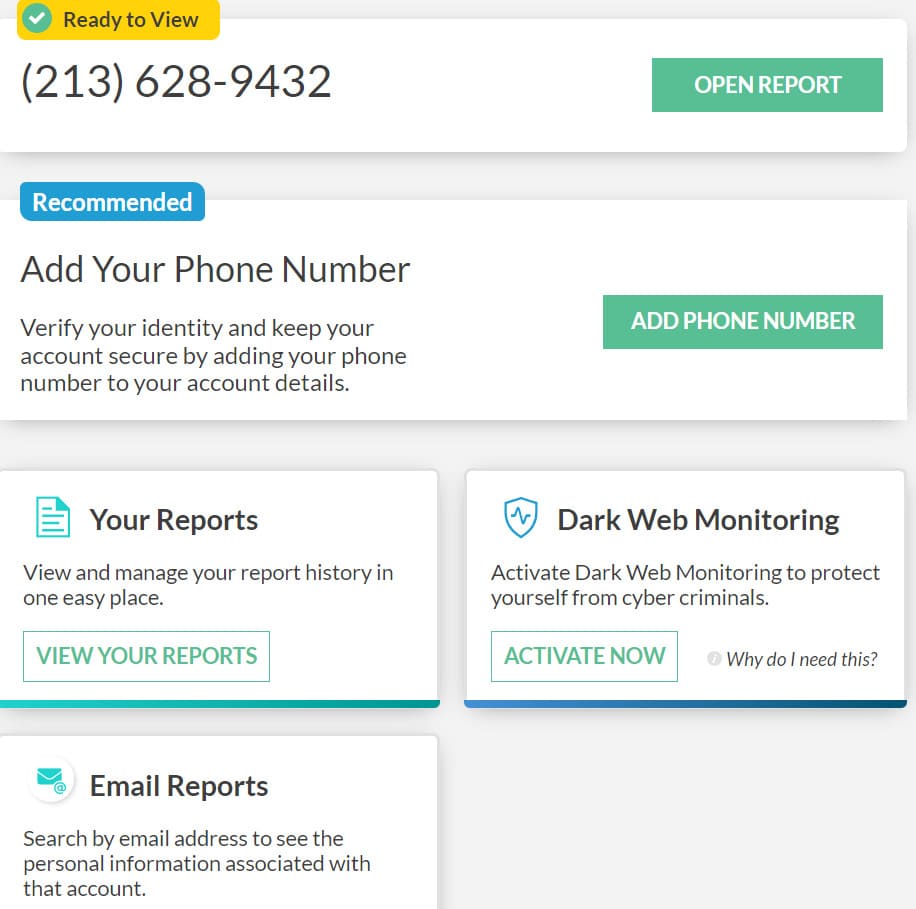 TruthFinder suggests you use the service by doing a background check of yourself, discovering contact information of professionals to expand your network, finding schoolmates, or reconnecting with an ex. You can even use it to find an online date's information before your date. Overall, there are more than a dozen ways to use TruthFinder.
Is TruthFinder Legit and Safe, Or a Scam?
TruthFinder makes a bold claim that it can discover shocking information about anyone. Thus, it's only right to want to know whether the service is legitimate. Well, TruthFinder is a legit background check service. Although it has a 2.6-star rating on TrustPilot, 60% of the reviews are 5 stars.
TruthFinder states that it gets its information from public records, and it's not a consumer reporting agency. As such, it does not provide consumer reports. It prohibits users from utilizing the site for any purpose under the Fair Credit Reporting Act.
To this end, TruthFinder forbids using the information for credit, employment, or tenant screening.
How Does TruthFinder Work?
Here's my experience with various TruthFinder features. Remember that TruthFinder may not always find information in all these categories for everyone. Your report and results will depend on the information available to TruthFinder.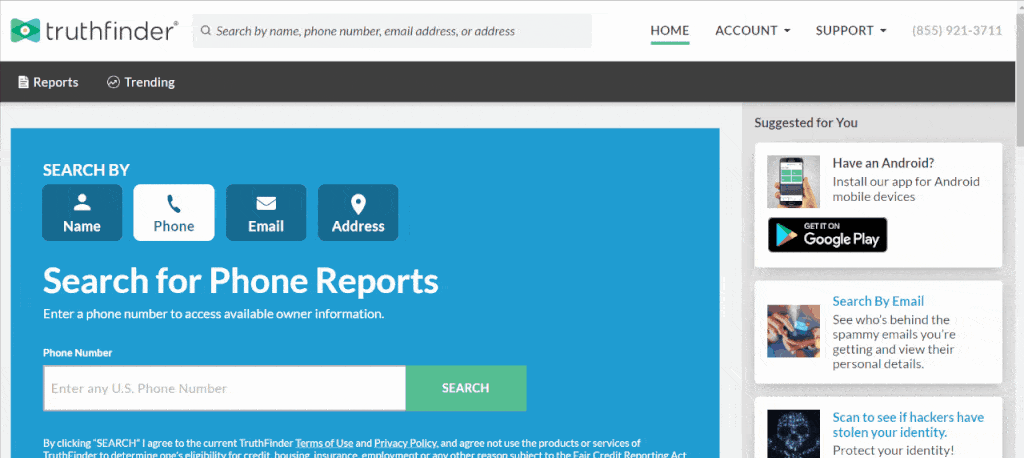 Reverse Phone Lookup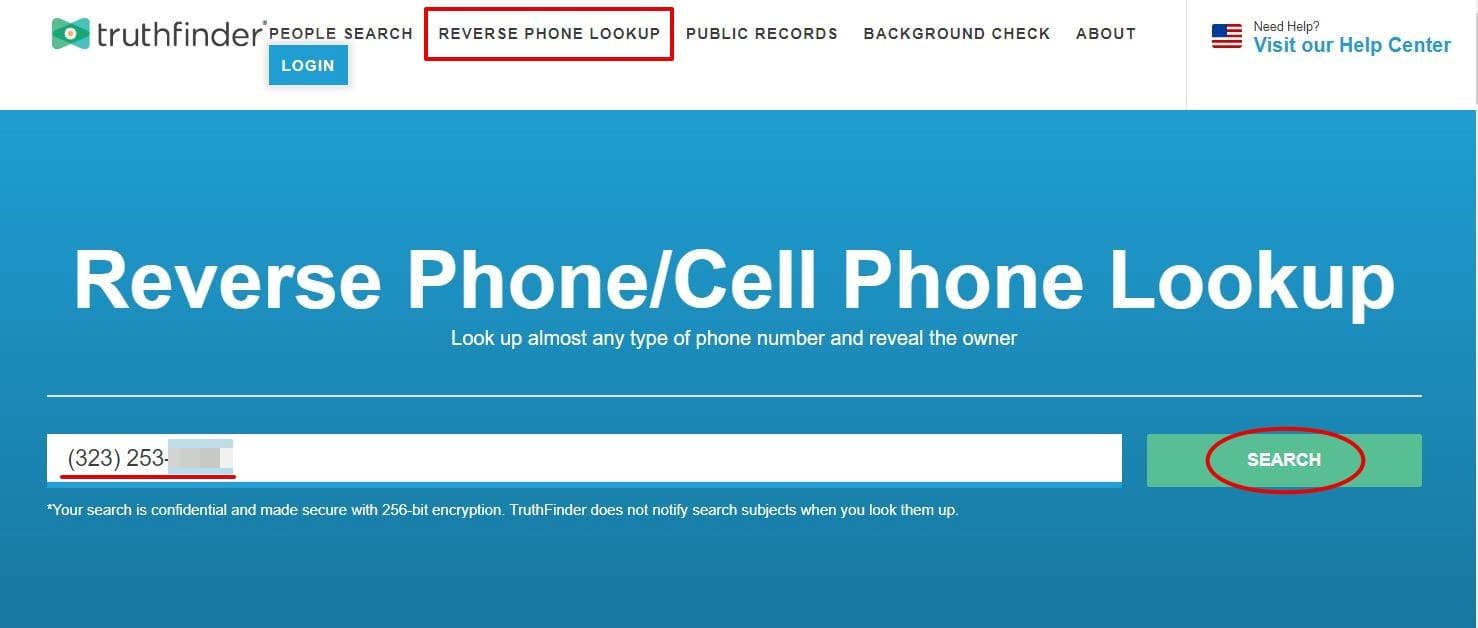 Truthfinder phone number lookup was fast and easy. I created an account on the TruthFinder website, and then logged in. Next, I clicked on the phone option, entered the phone number I intended to search for in the search bar, and waited a few seconds.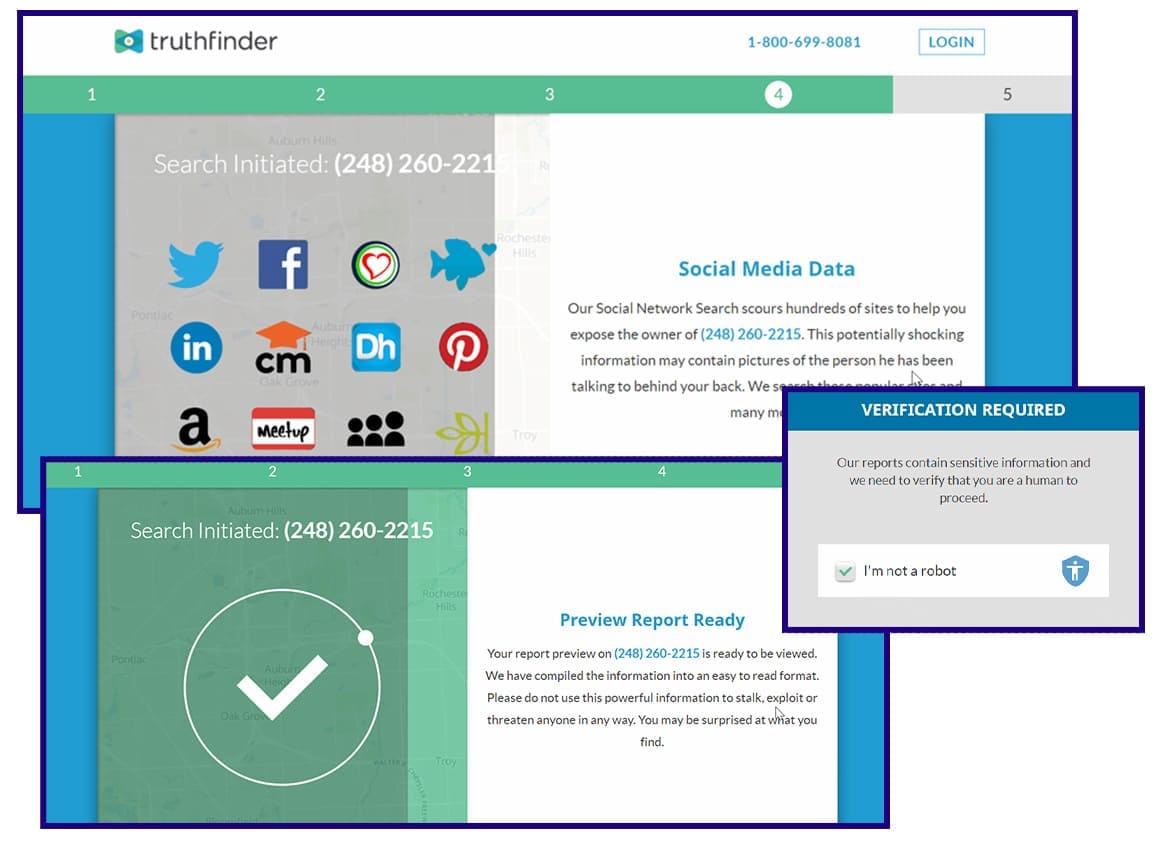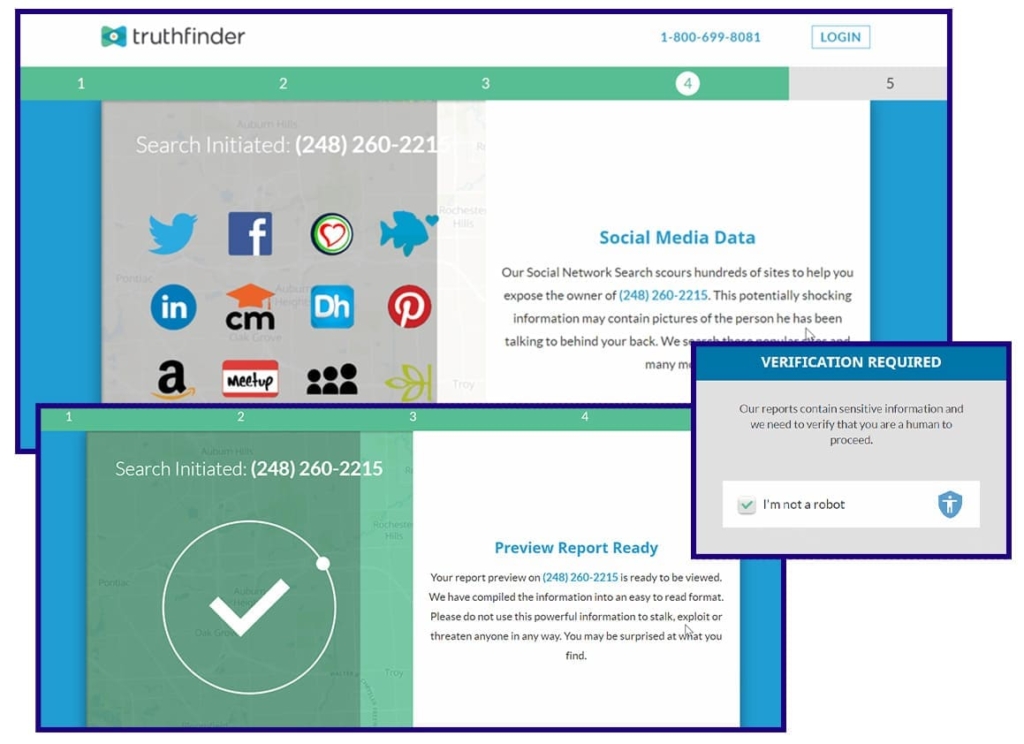 TruthFinder turned up results of the possible owner of the number. This information was accurate. I could see the person's phone details, location history, social media reports, and background reports.
Upon opening the background report, Truthfinder provided detailed information about various aspects of the person. This included any arrest records, sex offender status, and any finance and asset information.
I found it helpful for updating phone records or knowing other methods of contacting the person, like through their email address.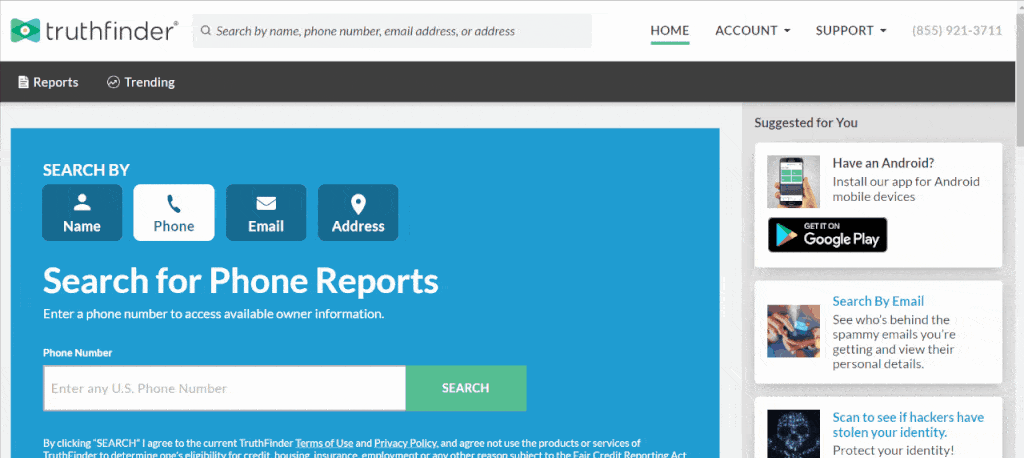 ---
People Finder
I first used a celebrity's name to see if Truthfinder would provide accurate information. It was a hit-and-miss with this option, since I couldn't get any information for the celebrities I searched for using their real names and stage names. Truthfinder did not have their information; I only got random people with similar names.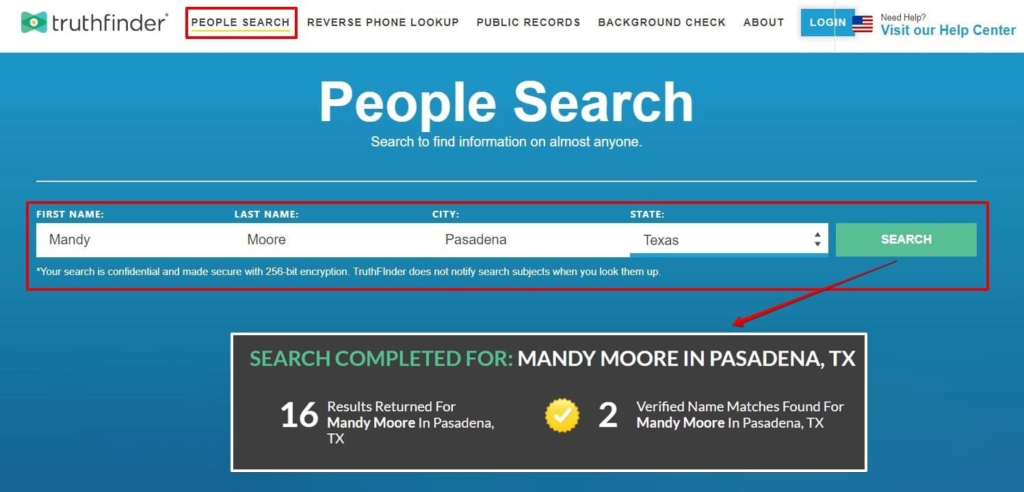 I then used Truthfinder to get information about a friend, and although there were multiple results, I picked the closest one to my friend. The results were entirely accurate, and I was impressed.
Truthfinder people search engine gave me a report with her past locations and all possible relatives. It also allowed me to check their social media information, dating profiles, possible associates, and assets.
---
Public Records
Searching through public records on Truthfinder involves checking birth and death records, arrests and criminal records, and bankruptcies and liens. When I searched for a name, the search engine yielded different results as part of the report. I looked into their personal information for their birthdate and death.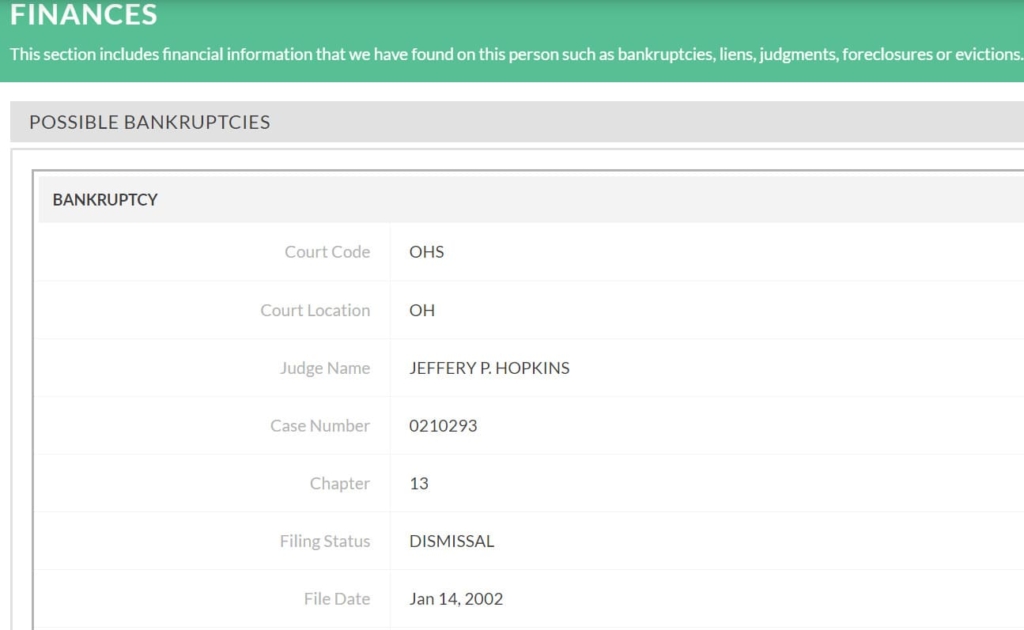 TruthFinder also had criminal records, which included information about the person's charge or offense. In the finance section, Truthfinder revealed any bankruptcies associated with the person I was searching.
---
Background Check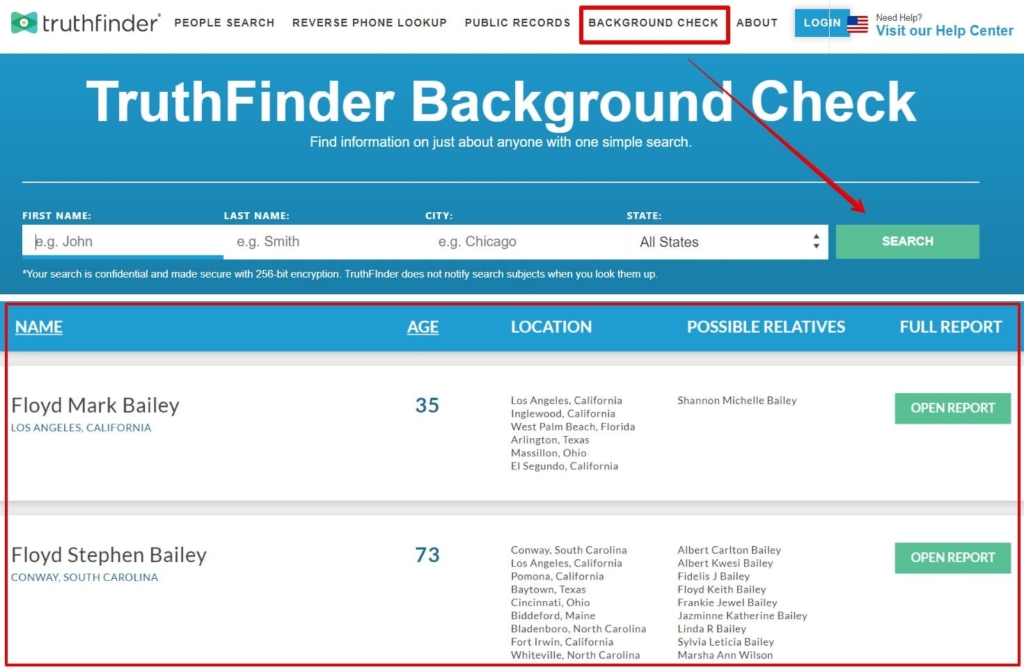 TruthFinder's background check service allowed me to input the person's first and last name, city, and state. After clicking search, the search engine turned up a few names. Since I knew the person's age, I clicked the first possible report.
To my surprise, TruthFinder provided various results such as personal information, location history, businesses, social network data, and possible family members. However, it did not find the person's criminal records, assets, and finances.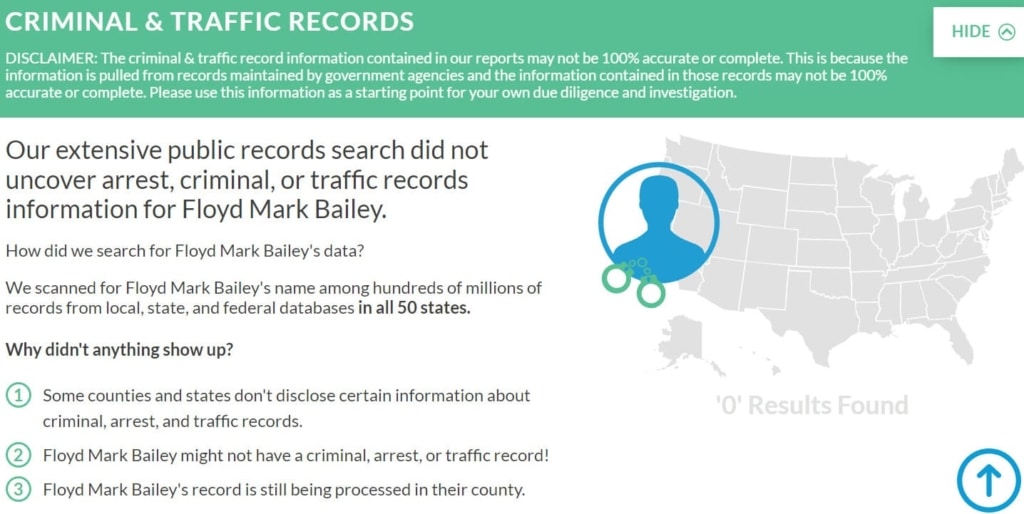 The Truthfinder report was comprehensive since it provided information from multiple public records. Its background information was current, and I didn't find inaccurate data about the person I was doing a background check on. Lastly, I could download the report as a PDF document.
---
TruthFinder App & Accessibility
While the TruthFinder website offers a simple method for checking backgrounds and knowing the person behind a phone number, or address, the app is even more convenient for mobile devices.
The TruthFinder app is free and available for iOS and Android devices. It has 1M+ downloads on Google Play Store with a 4.5-star rating.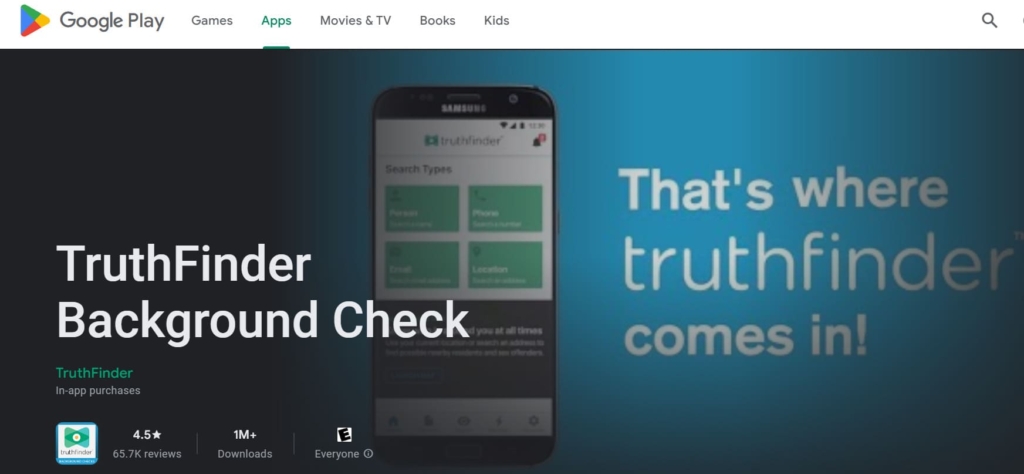 It is worth to note, that TruthFinder's Public record tools are only available in the USA. It uses information from federal databases, social media accounts, commercial databases, and the deep web. Again, the information provided by Truthfinder works under the Fair credit reporting act, that's why it only works in the USA.
How Much Does TruthFinder Cost?
There's nothing like TruthFinder free searches. The platform charges users between $4.99 and $29.73 per month. When you sign up for TruthFinder, you'll be automatically charged according to your plan.
TruthFinder has three plans. The People Search plan costs $28.05 per month, while the Reverse Phone Lookup monthly subscription costs $4.99. Lastly, you could opt for the Reverse Email Lookup, which costs $29.73 monthly.
I'd recommend the unlimited person reports membership if you need comprehensive and unlimited reports.
Unfortunately, TruthFinder does not have a free trial. The platform explicitly states that municipalities charge for the information they collect to provide you with up-to-date information.
How to Cancel TruthFinder Subscription
You can cancel your TruthFinder subscription at any time.
Here's how to do it:
Login to Truthfinder.
Go to the Truthfinder dashboard.
Click on account and go to Membership Settings.
Scroll down to the bottom of the page on the right.
Click on Cancel Subscription.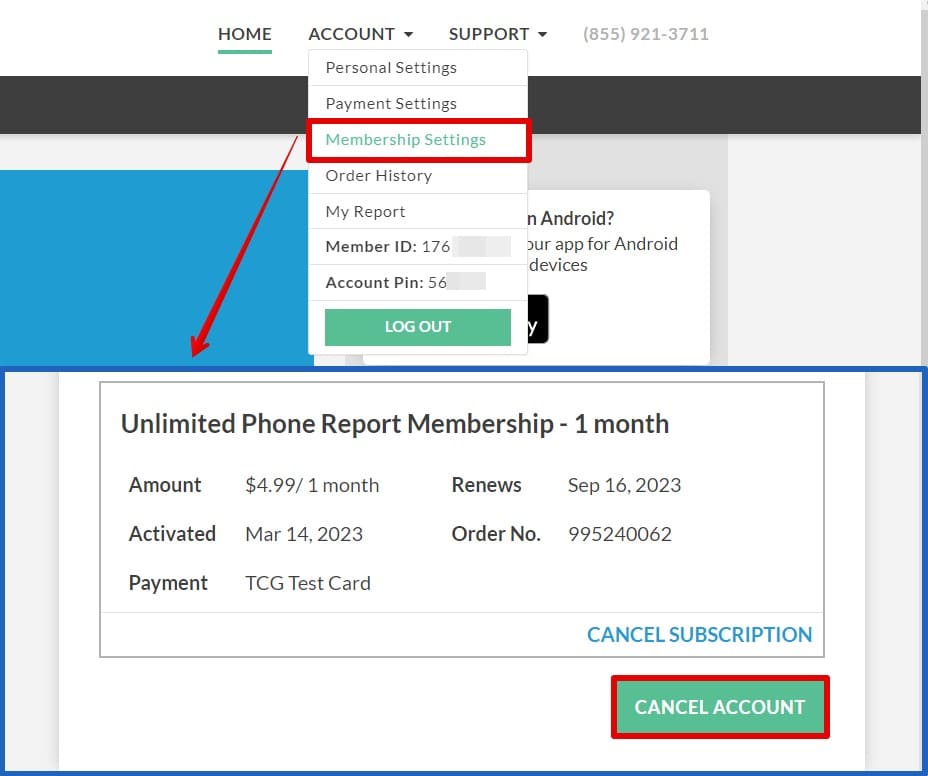 You can also cancel the membership by contacting Truthfinder support. The platform will connect you with a helpful customer service representative. You can also reach the service through the TruthFinder customer service number – (855) 921-3711 between 7 am to 4 pm PT, Monday to Friday.
Once you cancel your subscription, your account remains active for the rest of the billing cycle. The service does not refund funds for the last payment before canceling a subscription. However, you can request a refund if you're not satisfied with the service. The refund is per membership, and Truthfinder customer service handles it on a case-to-case basis.
TruthFinder Reviews From Web Users
TruthFinder has a credible web presence since it has followers on all social media platforms, including Pinterest, where it receives 150K+ monthly views. The service has received thousands of reviews on third-party websites, including TrustPilot, Reddit, Quora, Sitejabber, and Consumer Affairs. It has a 2.6-star rating on TrustPilot, 3.15 stars on Sitejabber, and 4.2 stars on Consumer Affairs.
I liked that TruthFinder's dedicated customer care team has replied to 100% of all negative reviews on TrustPilot. Furthermore, its Trustpilot reviews frequently mention customer service as the best aspect of the platform. Most people have had their questions answered. Looking at TruthFinder reviews on Reddit, users chose the platform for its in-depth reports.
Users on Consumer Affairs found the site's information accurate, and some used it to keep themselves safe from scams. This answers the question of how accurate is TruthFinder as many people find the results satisfactory. Nevertheless, some unsatisfied customers have complained about a long process before the service initiates payment.
TruthFinder: Pros & Cons
So, to sum it up:
Pros:
searches cover private, public, and dark web data;
the app is available for Android and iOS devices;
you can perform unlimited background checks;
you can view your own report;
provides 10+ search results categories;
offers multiple self-monitoring tools;
allows refining of results with advanced search.
Cons:
no free searches;
you may need to pay extra for deep web data;
there are some pop-up ads.
Conclusion
TruthFinder background check service and people search tool is an incredible platform for finding anyone in the US. Nonetheless, you can get the information you find through TruthFinder and similar tools from public sources. That is, if you have the time to browse through multiple public records.
With TruthFinder, you save time and get additional details about a person. For example, a background check turns up a detailed report that you can't get through a simple online search. You'll get information such as the person's photos, police reports, and past locations.
Although TruthFinder is a great people search tool, it's not the best option if you need to conduct a one-time search. It's a handy service to subscribe to if you need to perform frequent background searches.
Frequently Asked Questions (FAQs)
Is TruthFinder legitimate?
TruthFinder is a legit background check service and people search tool. It has an impressive number of positive and negative reviews, indicating that many people interact with the platform.
Is TruthFinder worth the money?
TruthFinder is worth the money if you require doing many background checks regularly.
How trusted is TruthFinder?
TruthFinder uses several security layers to ensure its members perform safe searches with complete anonymity. Thousands of people have completed countless searches using the service.
Is it hard to cancel TruthFinder?
It's effortless to cancel Truthfinder online or over the phone via its customer service team. Once you cancel, you'll get a confirmation email within the hour.
What is the best free background check?
There are limited free background check services. The available tools offer limited information; you risk finding dated and inaccurate information. Your best bet in getting accurate information is with a paid background checker.
Does TruthFinder notify the person you are searching?
If you're asking is TruthFinder anonymous, it's good to know that you'll pull information anonymously. TruthFinder will not notify the person you're searching.
Is there a free version of TruthFinder?
There's no free version of TruthFinder. You'll require a monthly subscription since you cannot pay for a single report.
Does TruthFinder sell data?
TruthFinder can share user data, such as email addresses, with its affiliates for marketing purposes. However, it allows its members to opt out of that process.