Affiliate Disclaimer
Find My Mobile is a tracking solution for mobile devices by Samsung. If you've ever had the experience of losing or misplacing your smartphone, you know how distressing that can be. Thankfully, if you have a Samsung device, you can locate it using Samsung Find My Mobile, which is now part of the SmartThings Find App.
Previously, Find My Mobile was a stand-alone feature for remotely locating, locking and erasing a Samsung phone. Now, Find My Mobile Samsung integrates with SmartThings Find, and you can use it to locate, lock, or erase your Samsung Galaxy phone, tablet, watch, or earbuds. SmartThings Find may find your mobile even if it's offline.
While the SmartThings Find Samsung has many promises, it has limitations. The pros and cons of this service are listed below.
Pros:
finds lost phone even when locked out of the device;
can remotely lock device to block access to Samsung Pay;
you can delete personal data;
free and easy to use;
can help to see the Wi-Fi the phone is connected to.
Cons:
it cannot run on Samsung phones running Android 8.0 and lower;
it cannot track the device if it's off or Wi-Fi is turned off;
it cannot track other (not your) devices.
As you can see, you cannot use Find My Mobile Samsung to track someone's Samsung phone without them knowing. But we did our research and found out the best ways how to track a Samsung phone.
If you're in a hurry and need to track someone right now, please fill out the form below, and we'll help you.
Enter the Phone Number and Track Its Location Right Now
Number Tracking
Phone Lookup
Quick Review of SmartThings Find App
Our Verdict: SmartThings Find App is the best for finding own Samsung devices. But it can't track someone's devices.
First Presented: August 2014.
Compatibility: Android 8.0 or higher.
App size: Find My Mobile – 22.29 MB, SmartThings – 283 MB.
Last Update: May 8, 2023.
Price: Free.
What Is SmartThings Find from Samsung
SmartThings Find is a powerful location service by Samsung. It comes automatically installed on a Samsung device, but you can download it on any Android smartphone or iPhone. SmartThings Find service leverages GPS, LTE technology, and data from wireless networks for quick and precise tracking.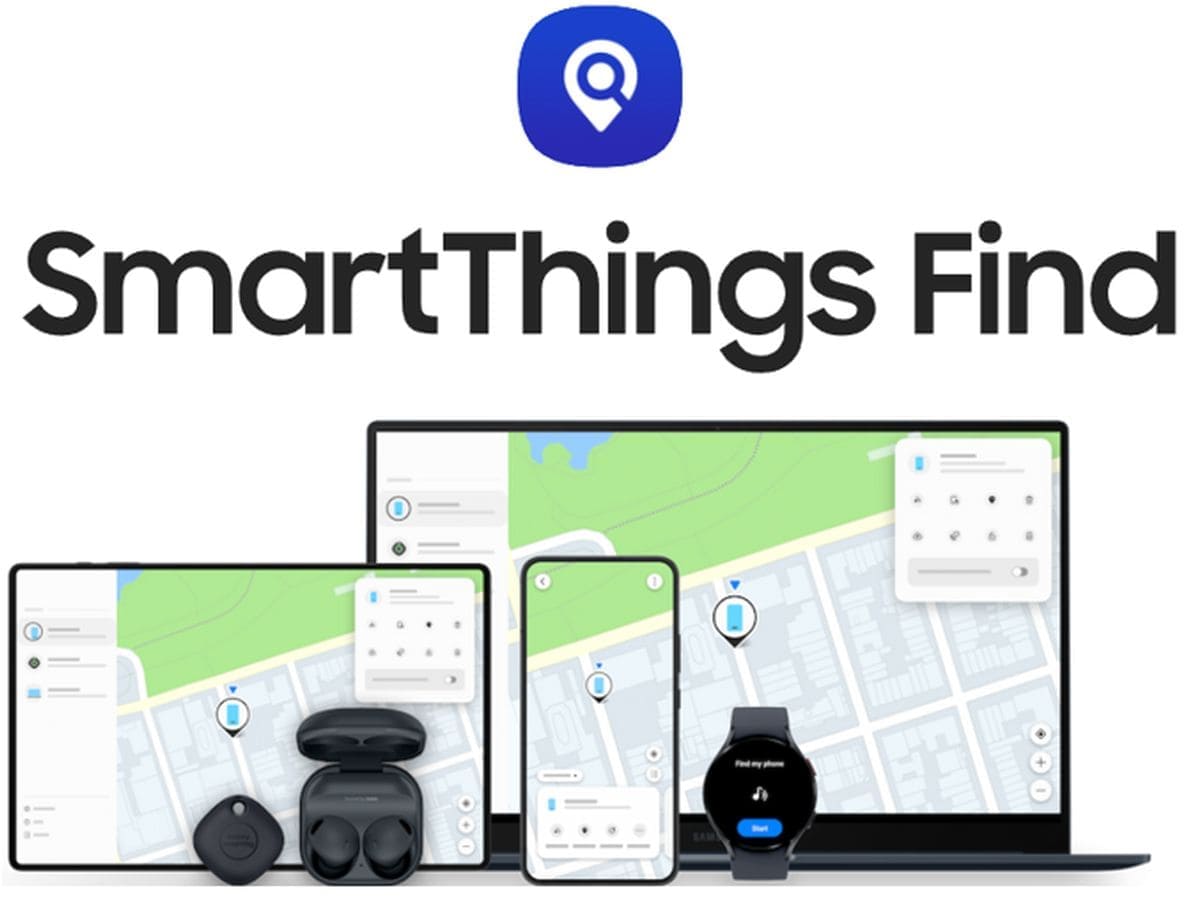 The Find My Mobile service now works as part of SmartThings Find for users with a Samsung account. SmartThings Find can locate, lock, and erase your Samsung device when enabled. In addition, SmartThings Find works on other Samsung devices, such as smartwatches, earbuds, and smart TV remote controllers.
How to Use Samsung Find My Mobile
Samsung Find My Mobile can help locate a lost device and secure its data to prevent someone else from accessing it. However, you may need to set up the Find My Mobile Samsung service before using it. This step-by-step process will help you set up Find My Mobile and how to use its various features.
Manage the Phone Settings
Samsung recommends setting up Find My Mobile immediately after buying a new Samsung Galaxy device.
Go to the Settings menu, tap Security & Privacy, and scroll down to Find My Mobile. If you already have one, you'll be prompted to sign in to your Samsung account. If you don't have a Samsung account, you'll have to create one. Go to Settings > Accounts & Backup > Manage Accounts to create a new Samsung account.

Toggle the Find My Mobile option to On. You can also toggle remote unlock, send last location, and offline finding. The send last location feature helps find your phone's last known location if the battery dies. Offline finding allows other Samsung Galaxy devices to locate your phone even if it's not connected to Wi-Fi or cellular network.
Once Find My Mobile is enabled, you can locate a lost Samsung phone using another device.
Locate My Samsung Phone
If your device is lost, you can locate the device remotely. The instruction on how to do it is below.
Use a PC or any other mobile device to open a browser.
Go to https://smartthingsfind.samsung.com/login and fill out your Samsung account details. You may be asked to grant various permissions. You'll see all the devices connected to your Samsung account.
Click on the device that you want to find.
Find My Mobile will find the device and show its location on a map. You can tap don't the pin icon to see your phone's exact location.
Find My Mobile also has a "track location" feature which you can tap to see the device's location every 15 minutes. In addition, you'll see the phone's location in street view or satellite view.
Remember that the SmartThings tracker estimates the phone's current location, but does not show the exact location. Samsung tells you why the location is only an estimate.

Use the "Extend battery life" feature to allow power-saving mode. When your phone is in maximum power-saving mode, your phone's data will not be backed up to the cloud.
Find My Mobile stores the location tracking data for seven days before it's automatically deleted from Samsung servers.
Ring My Device
If your Galaxy device is nearby, and you have just misplaced it, you can use the ring feature to make the phone ring for one minute, even if it's on mute or vibrate.
Go to https://smartthingsfind.samsung.com/ and find the ring feature in the remote management menu.
Tap ring.
You'll be prompted to tap start, and your phone will start ringing at the maximum volume.

Follow the sound to recover the device.
Lock My Screen
The Samsung lock screen feature allows you to prevent unauthorized access to your Galaxy device. This function can turn off various features such as biometrics and Samsung Pay. You can also use it to leave a personalized message for the person who finds the phone to return it.
Here's how to use the lock screen feature.
Go to the Find My Mobile website.
Find "lock" on the remote management menu and tap on it.
Set up a pin to lock the device.
You can also enter an emergency contact message to show on the screen.
Click lock, and Find My Mobile will lock the screen, turn off biometric authentication and lock power off to prevent someone from powering off the device.

Back up Data
If you want to back up your data, SmartThings Find Samsung can help you, especially if your device has been stolen.
Go to the Smartthings Find website.
Sign in to your Samsung account. The account has to be similar to the one linked to the missing phone.
Select back up from the menu.
SmartThings find will show a list of apps from your phone that will be backed up to Samsung cloud.
Click on back up and the process will start. Your phone needs to be connected to a Wi-Fi network or use mobile data for the service to work. If it goes offline, Samsung will resume backing up once the phone goes online.

Erase My Data
If you want to erase data from your Samsung phone, maybe you are giving it to your child, friend, or family member; there's an option to return the phone to do a factory reset using SmartThings Find.
Log in to your account on the Smartthings Find website.
Select erase data.

A prompt will be sent to the phone. Once you tap on it, all the data from that device will be erased.
After experimenting with this feature, I found it impossible to erase data from a Samsung device that you don't have access. Hence, the lock feature is the best feature to protect data on a stolen device.
Does Find My Mobile Work When the Phone is Off?
When the phone is off, Find My Mobile shows the last known location. I tried to find my turned off Samsung phone, and Find My Mobile only showed the last location. I clicked on "Notify me when Found," and I entered my email address to turn on the notification feature.
Earlier, I had hinted that you could use other Samsung devices to find a Samsung device. This feature works if the phone is ON, but it's not connected to the internet.
Why is Find My Mobile on Samsung Not Working?
The most common reasons for Find My Mobile Samsung not working are listed below.
Find My Mobile is Not Enabled
The service will not find your Samsung device if you've not enabled Find My Mobile. Head to the settings app and activate Find My Mobile. You can also enable Smartthings Find to sync all your devices.
The phone has No Internet Connection
Samsung Find My tracks a phone's location if it has an internet connection. If you cannot locate a lost device, it's likely offline. Nonetheless, you can use the offline finding feature if the phone is on with the help of other Samsung devices.
You are Using the Wrong Samsung Account
If you have more than one Samsung account, it's best to ensure that you are logging into the one linked to the missing phone. Otherwise, the smartphone will not show up on the SmartThings Find website.
Users' Review of SmartThings Find
SmartThings Find is yet to garner reviews regarding the Find My Mobile feature. We searched for reviews on Reddit and found some positive ones. Some users indicate that the app works as expected when searching for lost devices. Most customers are happy since they compare the service to Google Find My Device.
Users have noted that Find My Mobile is better than Google Find My Device since it can prevent lost devices from being switched off and also notifies you when the SIM card is switched.
We tracked down some negative reviews that showcase the feature having glitches and sending notifications of sign-in attempts.
Can You Use SmartThings Find to Track Someone?
You cannot use SmartThings Find to track someone else's location. Don't give up, though, because you can use online trackers like the HeyLocate Free Phone Number Tracker to find a Samsung phone's location without the target knowing.
Enter the Phone Number and Track Location Right Now
Number Tracking
Phone Lookup
Comparison table of SmartThings Find and Third-party Trackers
The comparison of features is in the table below.
| Feature | SmartThings Find App | Third-party trackers |
| --- | --- | --- |
| Tracking location in real-time | + | + |
| Ping the phone | + | + |
| Lock the phone | + | + |
| Geofencing | – | + |
| Track someone's location | – | + |
| Hidden tracking | – | + |
| Track someone's phone activity | – | + |
Alternatives for Samsung Find My Mobile
Looking for ways to track a Samsung phone with better capabilities. Here's a brief overview of our top recommended Samsung Find My Mobile options:
Track Samsung by phone number with Scannero
If you have only the person's phone number, Scannero can help you track the person's Samsung phone. All you need to do is send the individual a personalized message from Scannero. The text message is anonymous, but it will have a tracking link. Once they click on it, Scannero will send you their live location in a cinch. It's fast and easy.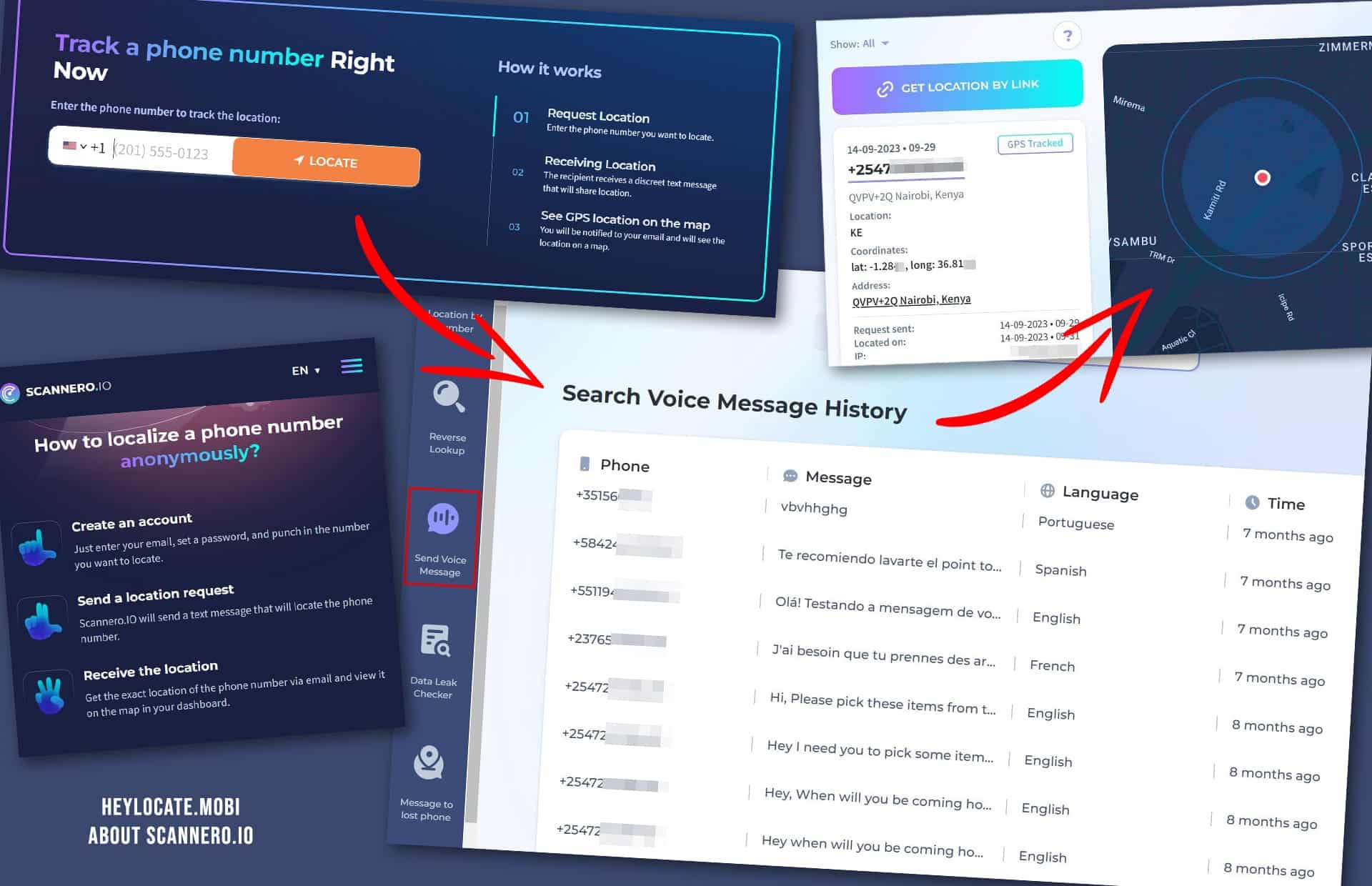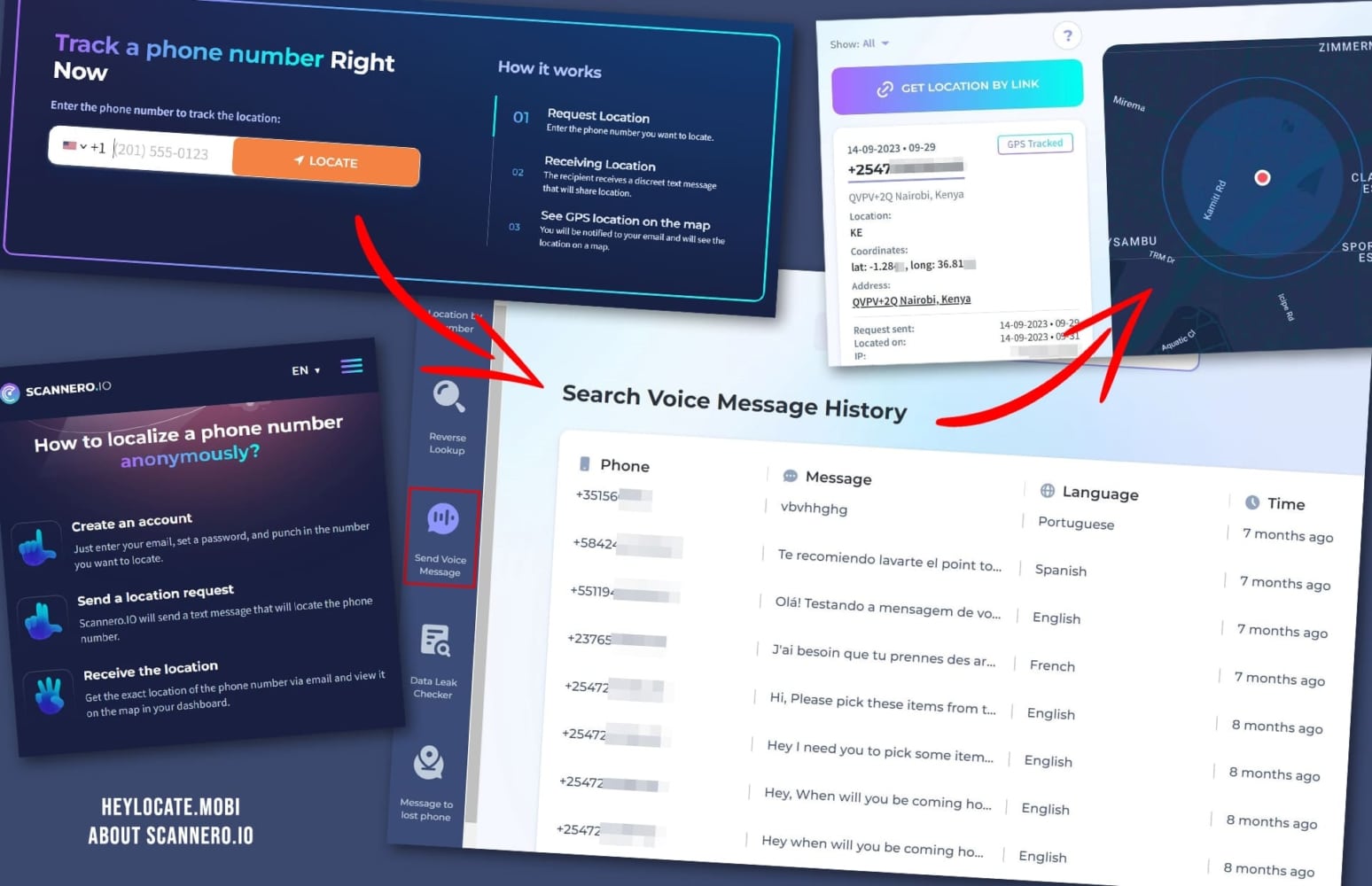 Scannero has lots of useful features. First, you will view the tracked location on Google Maps, making tracking the phone easy. Second, you can send a voice or text message, which can be helpful when trying to recover a lost Samsung phone. Lastly, you can do a reverse phone number lookup with Scannero. This feature is valuable when you want to know the identity of someone who owns a Samsung Galaxy phone.
---
Control Someone's Samsung with mSpy
Do you need to access a Samsung phone remotely? Maybe it's your spouse, teenager, or employee. With mSpy, you can control all the features on a Samsung phone. You'll first download the app on the target phone and then access its features from the online dashboard.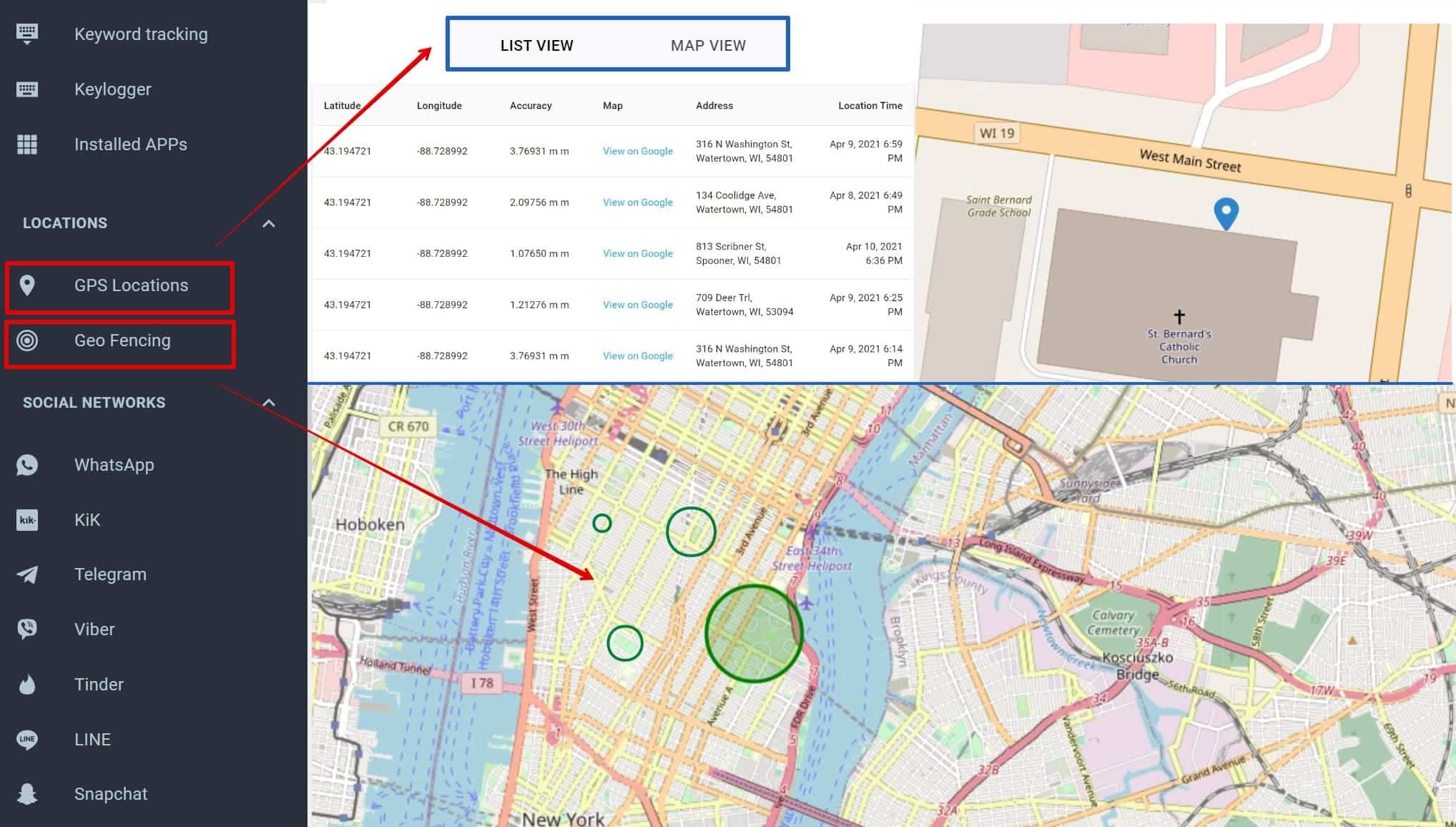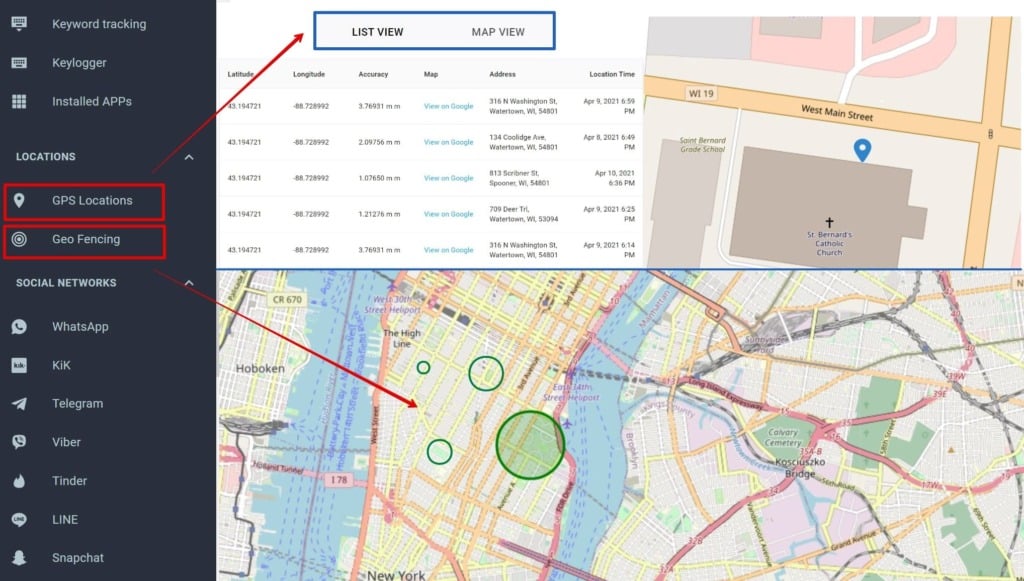 mSpy allows you to lock the phone, erase data, and even block certain features on a Samsung phone. Thus, it's an incredible app to control a Samsung phone remotely.
---
Conclusion
SmartThings Find is a valuable service for Samsung Galaxy phones, especially when tracking down your lost phone. You can make it ring, see its location on a map, and lock various features to protect your data. Still, you cannot track someone else's Samsung using SmartThings Find. You will need better tools for how to track a Samsung phone.
A good alternative and popular option to track a Samsung phone is mSpy or even Scannero.
Frequently Asked Questions (FAQs)
How does Find my mobile device work?
Samsung Find My Mobile collects location information from Google and wireless networks to identify a phone's location.
Does Samsung Find my mobile work when location is off?
Samsung Find My Mobile relies on wireless networks rather than location services. It can find a Samsung device even when the location is off.
Does Find My Mobile work without internet?
When the phone is offline, Find My Mobile will only display the last location if the device enabled offline finding.
Is Find My Mobile automatically enabled?
This service is automatically enabled on Samsung phones of users with a Samsung account.