Affiliate Disclaimer
Have you found your dream home and wish to make an offer, or do you want to know who moved into the house next door? Perhaps you're a real estate agent and want to discover the owner of a vacant house.
Information about property ownership is usually available online, and it's legal to access. However, you may have to jump through a few whoops since you need to find a legitimate website. Moreover, you could go to a real estate agent, since they typically find out who owns land as part of their job. All-in-all, every method you use to find out owners of property by address differs significantly between states.
With this in mind, our HeyLocate team has researched the best resources to determine who owns a property. Free services are unreliable since they may not have the resources to verify the information. Paid platforms are suitable when you don't want to take chances or talk to the wrong person when looking to score an off-market property.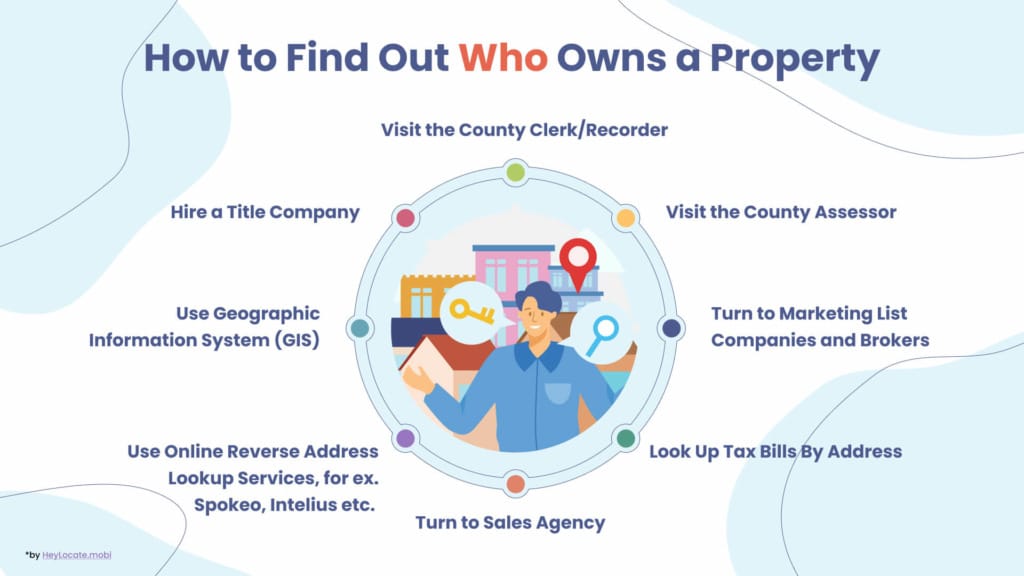 So, let's see our top recommended options for looking up owners of the property and our reviews of them.
Check the Property Information Right Now
Address Lookup
People search
TLDR
You can read the full review, but if you feel it's too long to read to the end, here are our top 3 services for looking up owners of property:
🥇 Ownerly
This data company allows you to search from millions of current and historical property records. Ownerly lets you know the property owner and determines the home's value.
If you're looking for in-depth information about a property, not just the owner, Neighborwho.com has you covered. You will find out social media information, email, and a sex offender's registry list at the end of the report.
🥉 Spokeo
For those looking to find out more information about the owners of a particular property, Spokeo is the real deal. This reverse address lookup site helps you learn who lives at an address, their contact details, home value, neighborhood info, and other real estate statistics.
"With home title fraud on the rise, it's now more important to know about the true owner of a property before buying. This FBI's crime report of 2021 estimates that $350 million was lost to online real-estate-related criminals. Therefore, address lookup services will help you identify the real owner of property by address."

Content Marketing Department
Table of Top 9 House Owner Finders
Total Services Researched: 30
Total Services Shortlisted: 9
Service
What sets it apart
Compatibility
Price
Free trial
Effectiveness
Ownerly
Property Owner Data Search
PC, Android and iOS
$35/month
7 day free trial at $1-5
4.9
Neighborwho
Permit Records
All devices
$44.86/mo
$29.15/mo with 3 months subscription
$1 for a 7-day trial
4.8
Spokeo
Wealth Data; Court Record and Historical Record
All devices
$13.95/month
$7.95/month for 3 months
$4.95/month for half the year
Free basic search
4.7
Nextdoor
Name and any known aliases;
Criminal Record;
Local Information
PC, Android and iOS
Free
Free
4.5
Intelius
Criminal and
Public Records Search
PC, Android and iOS
$0.95-39.95 depending on the type of the search
5 days trial $1.99
4.7
Whitepages
Financial records
PC, Android and iOS
$3.99-9.99/month
–
4.5
USSearch
Multiple add-ons for extra functionalities;
Reconnect with old friends
PC, Android and iOS
$19.86/mo for search by name
–
4.5
Beenverified
Property owner lookup
PC, Android and iOS
$26.89/mo
$52.44 quarterly
Paid free trial $1
4.5
Peoplelooker
Username search;
People Directory;
Phone Directory
PC, Android and iOS
1 Month Membership $27.44/mo
3 Month Membership at $17.83/mo
Paid free trial $1
4.5
We took some resources from the top reviews of the best, and almost all of them were awful. So trust only verified sources of information or blogs of specialized services related to telecommunications. For example, like our HeyLocate blog.
Find Property Owners By Address for Free
If you have enough patience and time, you can try to make your own investigation about certain property.
Use Geographic Information System (GIS)
A Geographical Information System is a tool that provides accurate property mapping. Your county provides the information you get while using GIS. This means you will need to visit your state and county's specific geographic information system.
GIS tools allow you to search a property owner by Address, Property ID, Assessment Area Number, Assessment Sub-Area, DC Wards, or DCRA permits.
Look Up Tax Bills By Address
A property's tax records are public information. These property taxes are available at the county records' office. You can access this information through an online service or in person. The county recorder's office information includes the property owner's name, the property value at the time of the search, and all taxes due and paid.
You will need the property's address to initiate an address search. Several addresses will pop up based on the numbers on the address and similar street names. Hence, you will need to select the property from the listing. You will then see the property owner and all taxes paid by the homeowner.
Visit the County Assessor
The county assessor appraises all county property for tax purposes. The property owners pay property tax collected at the collector's office.
To this end, you can start at the county assessor's office when you're looking to find out who owns a property. The assessor will provide free, legal, and comprehensive ownership data about the property.
However, the information from the assessor's office can be outdated depending on the time it was collected. You may have to visit city hall or call your local government office to verify the information.
Visit the County Clerk/Recorder
If the property you want owner information on is not listed in the county assessor's office, you may have to visit the county clerk's office. This could happen if no one has ever paid taxes on the property.
When you visit the county recorder's office, you will get information about the property owner, contact information, and history of the property ownership.
Property Owner Search by Address
Finding out who owns a property may seem simple. But that's when you're looking for general information. When you need comprehensive details, such as the crime rate and sex offenders in the neighborhood, you will want to engage a reliable platform.
These are our tested and approved online house owner finder platforms.
Ownerly
Ownerly offers great leads for those looking to sell their home.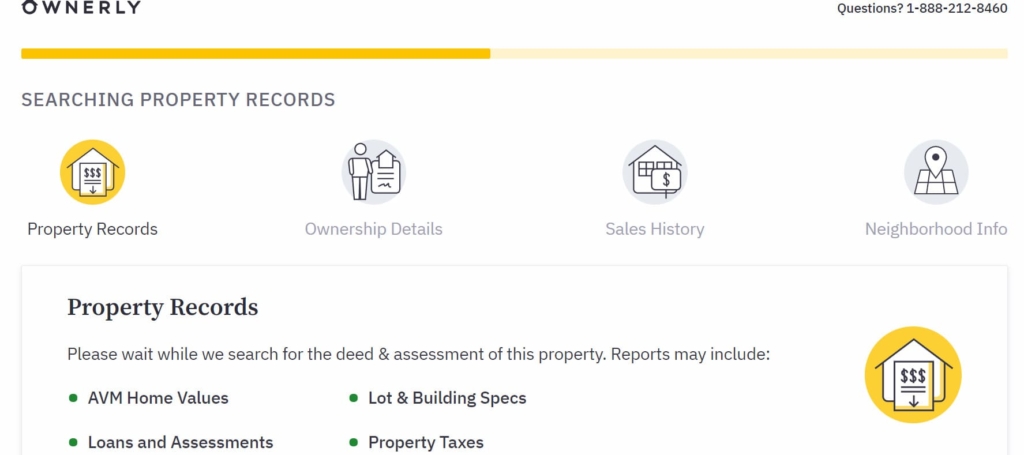 The Information You Can Get:
owner's full names;
estimate of a home's value;
tax information;
nearby listings and comparisons.
User Experience:
Ownerly was one of the easiest-to-use property data tools that I used. The platform offers a one-week trial for $1 to search by address and see up to 25 reports.
It also has a $5 trial to have shared access and download PDF documents. I chose the $1 trial to gain access to ownership details, sales history, area info, and property value estimates.
None of the information on Ownerly is free, but you can search anonymously. You'll pay a $29.99 monthly fee if you choose a subscription plan.
The best thing about Ownerly is that it's accurate, and I acquired the data I was looking for in less than five minutes. I saw the average lot size of the property, the home's age, property taxes, and recent sales data.
Customers complain about the subscription model, since some were charged even after canceling during the trial period.
| Quickness | Simplicity | Effectiveness | Safety |
| --- | --- | --- | --- |
| 4.9 | 5 | 5 | 5 |
Pros:
service is fast as it beats combing through information from a title company;
low subscription fee for the trial;
it can connect owners to local professionals.
Cons:
it can be expensive if you forget to cancel the plan after a one-time search;
some information could be inaccurate.
---
Neighbor Who
With Neighbor Who, you can request a demo before committing any money to the service.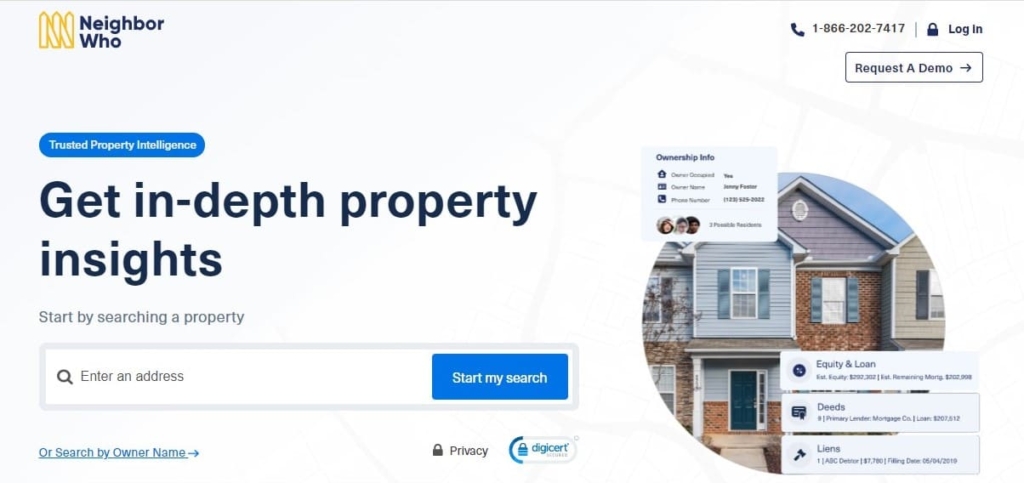 What Information You Can Get:
deed information;
ownership details;
sales timelines;
property details, including size and when the property was built.
User Experience:
Neighbor Who property search was straightforward. The platform offers a $1 trial for searching up to 50 properties. You can subscribe to a monthly plan at a charge of $44.86 for 50 searches or $29.87 per month for a three-month membership.
I chose a trial that allowed me to access premium data such as full names of the owner, phone and email, and property deeds info.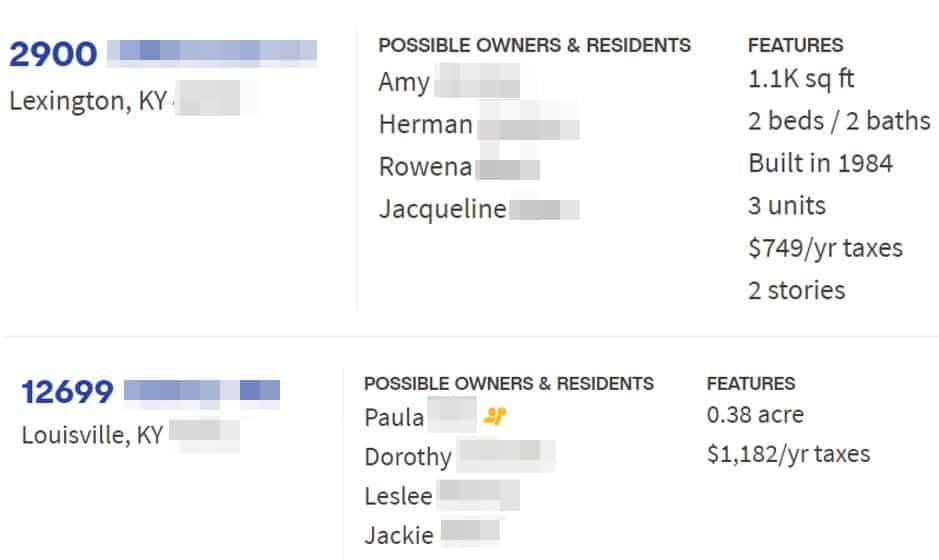 I used Neighbor Who anonymously, meaning the property owner is not notified.
Most people who have used the service have given it mediocre ratings because it is relatively new. Customers also complain about credit card issues, but Neighbor Who has indicated it's working to resolve all complaints.
| Quickness | Simplicity | Effectiveness | Safety |
| --- | --- | --- | --- |
| 4.5 | 4.8 | 4.9 | 5 |
Pros:
accurate results;
offers a well-rounded report;
it has a sex offender registry;
offers social media and email information.
Cons:
it does not mention fees upfront;
a bit expensive for a single search after the trial.
---
Spokeo
Spokeo is one of the few free property owner search by address tools. This platform offers fast search results, with most of the information free to access.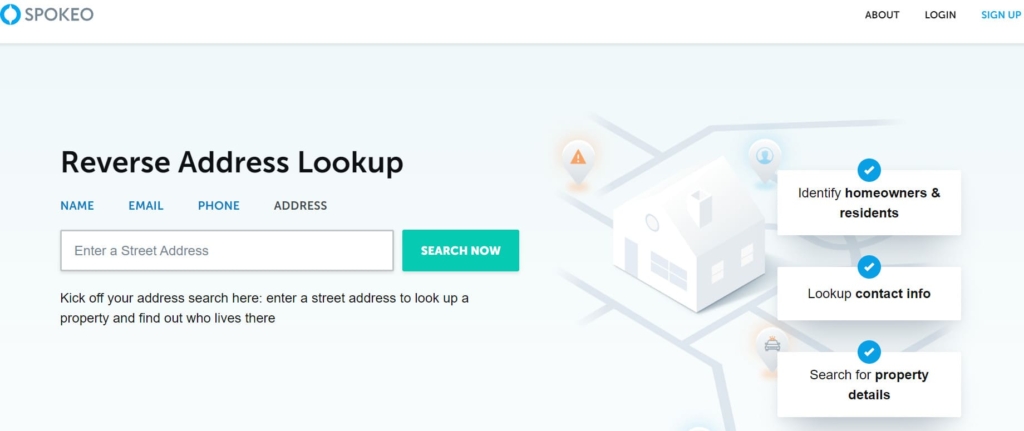 What Information You Can Get:
property ownership information;
real-time search results;
neighborhood statistics.
User Experience:
When I input the target address, Spokeo provided results that were in the public records for free.
As such, I could see the home type, how much it last sold for, and the lot size. Spokeo could also show me if the home has heating, a swimming pool, a fireplace, and other structural features.
For a full address report including the owner's full name, phone number, and household members, Spokeo charges $0.95. The monthly charge for a 6-month subscription is only $19.95. The site is accurate and fast since it produces results within seconds.
The search is also anonymous. Users give Spokeo a middling rating owing to some incomplete data. Spokeo mentions that it relies on public sources for info hence the missing information on some search results.
| Quickness | Simplicity | Effectiveness | Safety |
| --- | --- | --- | --- |
| 4.6 | 4.8 | 4.6 | 4.8 |
Pros:
it's fast and affordable;
provides general and specific information;
turns up a report in less than five minutes;
has options for searching for people and background searches.
Cons:
add-on fees for some services;
lacks some information available from public sources.
---
Nextdoor
Nextdoor has many positive reviews since it connects people in a neighborhood.

What Information Can You Get:
neighborhood activity;
real-time information from public agencies;
businesses around the neighborhood.
User Experience:
The first thing I did was create an account with Nextdoor. Being a social media platform, I needed to verify my name and address. The site allowed me to discover nearby homes, any vacant lots, open houses, for sale houses, and the estimated home value, among others.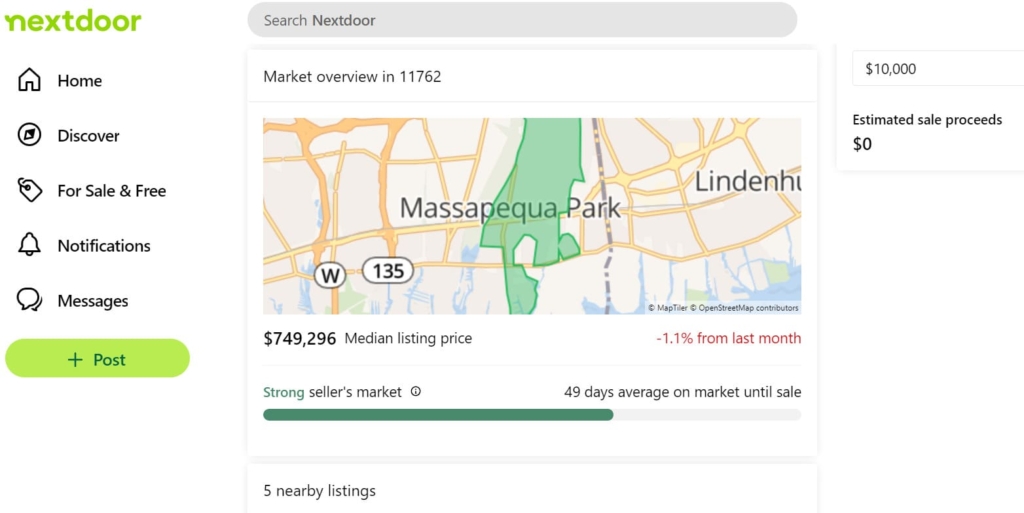 Apart from seeing the value estimate of my home, I could also compare it with nearby homes.
Information from Nextdoor is private, so it was only visible to me. The searches are free as there are no charges to use the site. I got what I needed in less than five minutes.
| Quickness | Simplicity | Effectiveness | Safety |
| --- | --- | --- | --- |
| 4.5 | 4.5 | 4.6 | 4.7 |
Pros:
helpful to know neighbors;
ideal for getting feedback from neighbors;
encrypted to safeguard users' information;
one can control the audience of their posts.
Cons:
it lacks the option to hide your profile;
neighborhood leads are not all unified.
---
Intelius
Intelius has a mobile app available on Android and Apple.
What Information You Can Get:
map location of the property;
sales history;
current owner and neighbors;
nearby businesses;
financial history.
User Experience:
Intelius gave me the means of checking a home's property records. Hence, I could determine if it was a good buy. This property search platform also gave me information about my neighbors. Intelius showed the residents, neighbors, exact property location, ownership history, and financial information, including property liens.
Intelius takes a few seconds to provide the information you request. Moreover, all searches are confidential. The pricing is affordable at $0.95 for a 7-day trial for address lookup and people search. Then, you'll pay $29.78 per month for unlimited addresses and people lookups.
As for the customer ratings, the platform has a 2.9/5 rating on Consumer Affairs. Complaints are about the billing system from customers who forget to cancel the subscription, thereby getting charged a monthly subscription fee.
| Quickness | Simplicity | Effectiveness | Safety |
| --- | --- | --- | --- |
| 4.7 | 4.8 | 4.8 | 4.7 |
Pros:
offers unlimited reports with one subscription;
allows paying per search.
Cons:
some reports are outdated;
in-depth reports are not free.
---
Whitepages
It is one of the most popular sites. Let see how it works.

What Information You Can Get:
property details;
cell phone numbers;
background checks;
existing liens;
scam/fraud ratings.
User Experience:
If you want to find property owner name free, Whitepages makes it possible. After entering the desired address in the search bar, Whitepages produced the full names of the owner, property number, owner's approximate age, relatives, and a background report.
The results are available in less than a minute. When I needed more information, Whitepages asked for a premium access fee of $3.99 per month. Moreover, I could subscribe to the Unlimited Plus package for $4.99 per month or pay $19.99 for 200 lookups.
Searching for information on Whitepages is private and confidential. It allowed me to find out property owners without asking a county tax assessor or a local title company. Whitepages has a 1.9/5 rating on site jabber. Customers' site problems with cancellation.
| Quickness | Simplicity | Effectiveness | Safety |
| --- | --- | --- | --- |
| 4.5 | 4.6 | 4.5 | 4.6 |
Pros:
it has a free option;
affordable subscription fees;
shows relatives and associates;
attentive customer care service.
Cons:
some reports are inaccurate;
the ages listed are rarely correct.
---
US Search
US Search is another easy platform for how to find out who owns a property.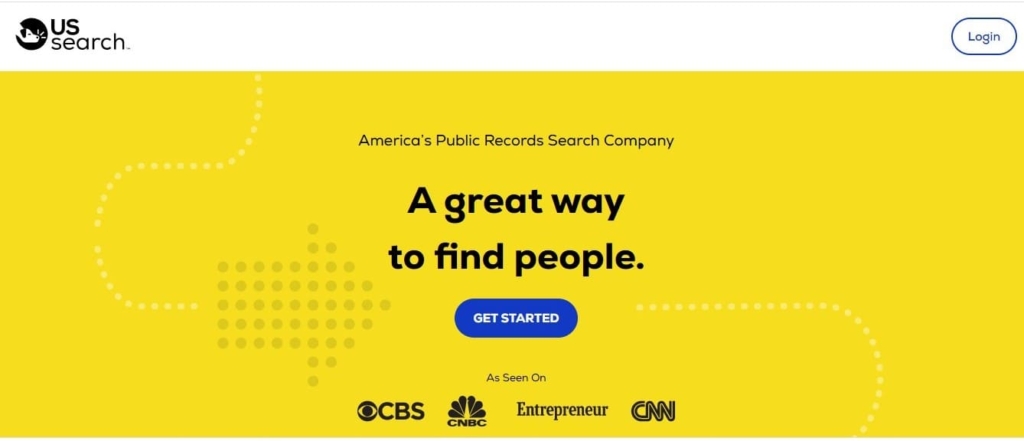 What Information You Can Get:
owner info;
property value;
residents;
sales history;
contacts info;
nearby sex offenders.
User Experience:
The site required the full address of the property. Then it gave me information about the property's residents, past residents, property value, area crime statistics, nearby sex offenders, and ownership history.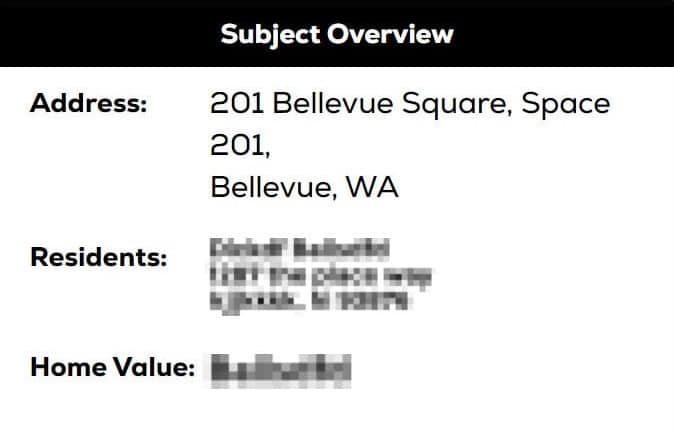 While the search is confidential, it requires $1.99 for a 5-day trial to get the full report. If you don't cancel the trial, US Search will charge you $19.86 per month.
I got the information I wanted, and the results were accurate. US Search has lots of positive reviews thanks to its reliable data accuracy. Users also praise it for excellent customer service and affordable pricing.
| Quickness | Simplicity | Effectiveness | Safety |
| --- | --- | --- | --- |
| 4.5 | 4.5 | 4.6 | 4.5 |
Pros:
free basic search;
no customer funnel;
pulls specific real-estate-related details;
accurate property search results;
Cons:
some information is not updated;
add-ons require extra fees.
---
BeenVerified
The site has a 4.2/5 rating on Consumer Affairs, indicating that most customers find it satisfactory.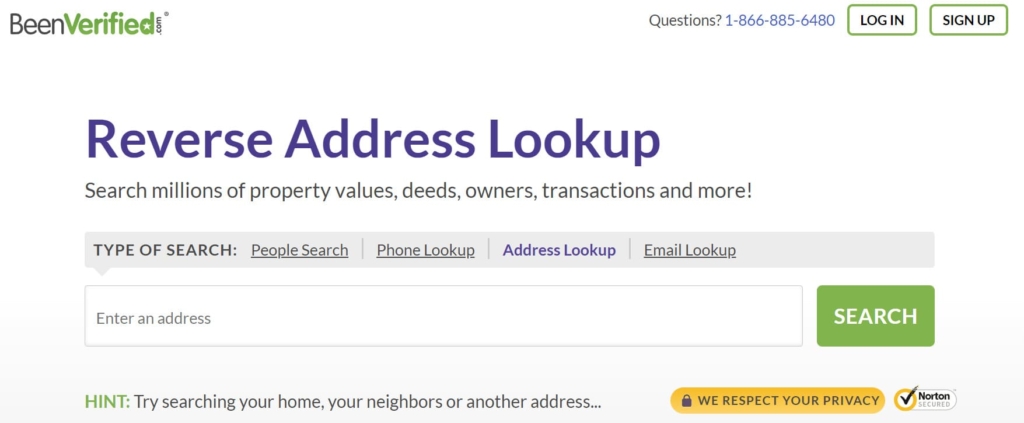 What Information You Can Get:
owner lookups;
address lookups;
contact information;
background checks.
User Experience:
BeenVerified has plenty of good features that helped during my search. Its reverse address lookup presented information about when the home was built, its square footage, and the number of rooms. There were also details about the current owner and the people who have lived at the property.
Searching is anonymous, and BeenVerified won't notify the property owner. However, I first had to sign up to access the information.
BeenVerified costs $22.86 per month, but you can pay a three-month subscription for $14.86 per month. I liked that customer care is available 17 hours a day to cater to customers' concerns.
| Quickness | Simplicity | Effectiveness | Safety |
| --- | --- | --- | --- |
| 4.4 | 4.5 | 4.5 | 4.7 |
Pros:
responsive customer support team;
returns detailed, comprehensive reports;
relatively transparent;
clear user guidelines.
Cons:
pricing on single reports is unclear;
search results can sometimes take long;
no free trial.
---
PeopleLooker
PeopleLooker provided up-to-date and reliable information from its property records.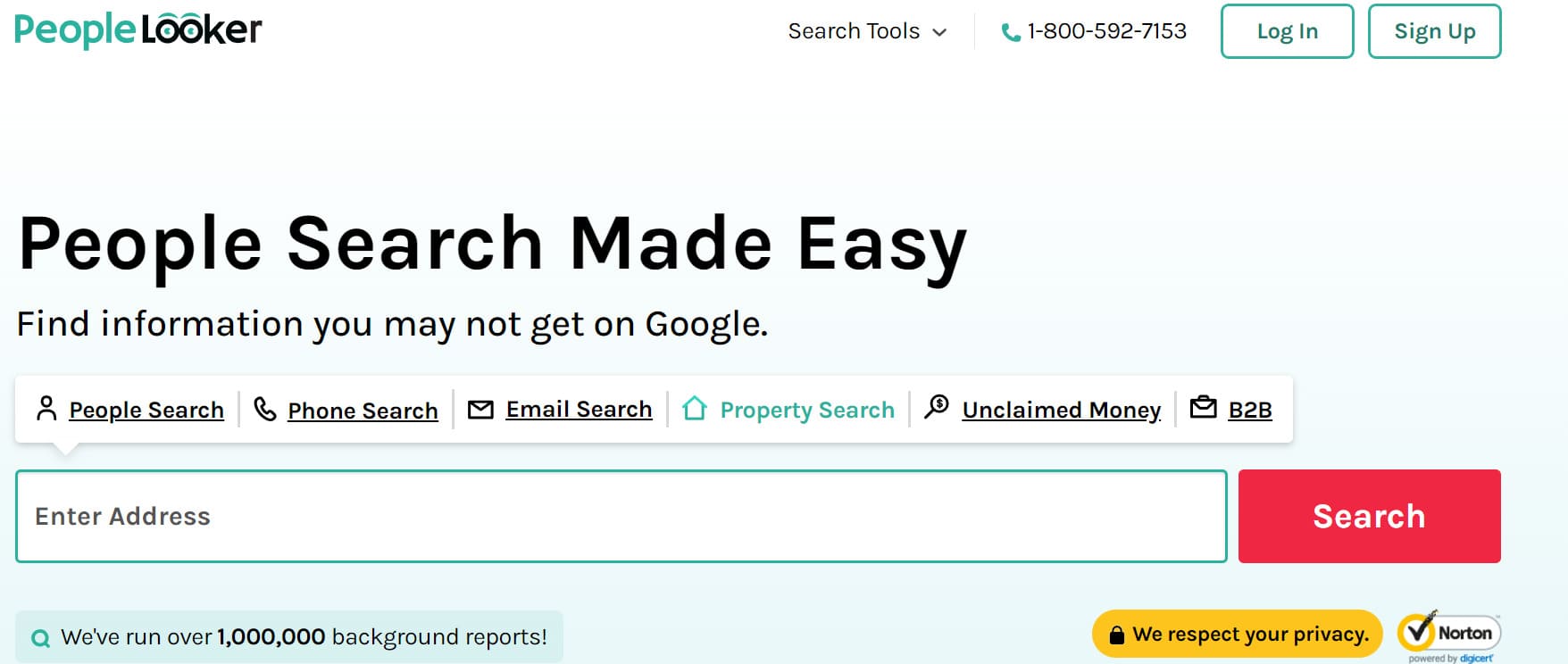 What Information You Can Get:
property ownership details;
ownership history;
projected property value;
square footage;
when the property was built;
area crime statistics.
User Experience:
It turned up results in less than two minutes, and the full report was ready to download in around five minutes. I liked the simple interface and the fact that I could search anonymously.
The pricing is only $1 for a 7-day trial. Nevertheless, I could pay for three months and save 30% of the subscription fee.
Site Jabber has given PeopleLooker a 2-star rating. People often complain about the long cancellation process.
| Quickness | Simplicity | Effectiveness | Safety |
| --- | --- | --- | --- |
| 4.6 | 4.5 | 4.6 | 4.6 |
Pros:
reliable customer support;
detailed property search information;
lots of information about local businesses;
shows local demographics and amenities.
Cons:
some info isn't up-to-date;
one has to call or email to cancel.
---
Other Paid Services for Looking Up Owners of Property
There are some more popular lookup services in the USA.
PropertyRadar
PropertyRadar is aimed at real estate investors, brokers, and wholesalers. It has valuable features such as person vs. location lookup, allowing you to see the properties that a person owns around the country. In addition, you can search for a property owner and get details like the owner's contact details, sale price, when the property was bought, equity, and value estimates.
We liked the platform's personalized activity dashboard for property lookups, listings, discovering new properties, etc. It also offers lead management; hence, it's beneficial when you want a straightforward platform to navigate the real-estate space.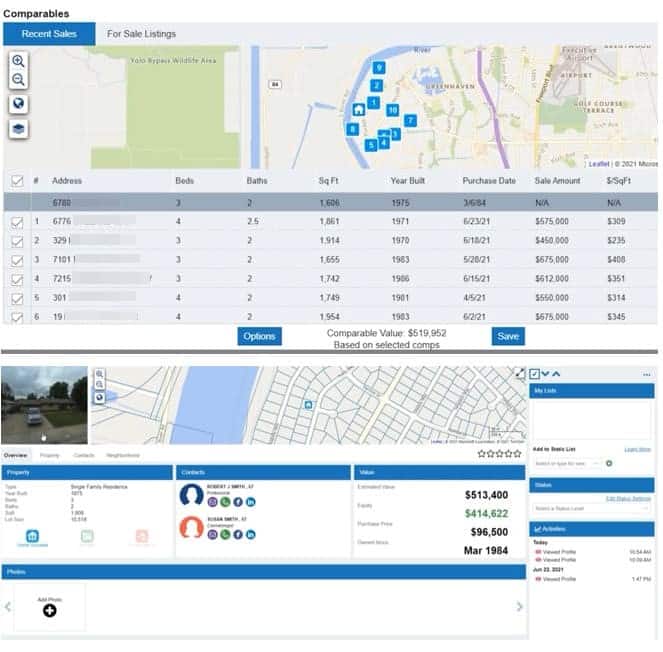 PropertyShark
Property Shark has comprehensive data for homes and businesses. This platform appeals to both professional and non-professional users. As such, you can benefit from its robust features.
As a PropertyShark Pro member, you will have access to 175 property reports per month. The site gives the owner's names, emails and data lists, maps, property photos, comparables, and transfer conditions.
If you opt for a pro account, you will see foreclosures, pre-foreclosures, and any branded market reports. You can also see the real owners of LLCs in NYC, verified property owners' phone numbers, and perform a people search with a platinum membership.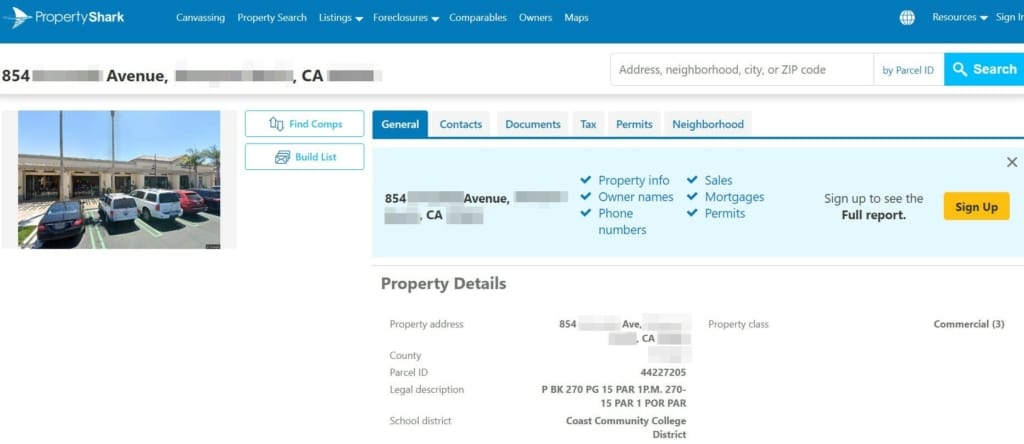 Melissa Lookups
Melissa Lookups offers free basic searches. The information you'll get from the search will include the owner's name, telephone, type of property, and the sales estimate. This platform displays the information you request in a simple dashboard. Furthermore, it has accurate information thanks to regular updating of information.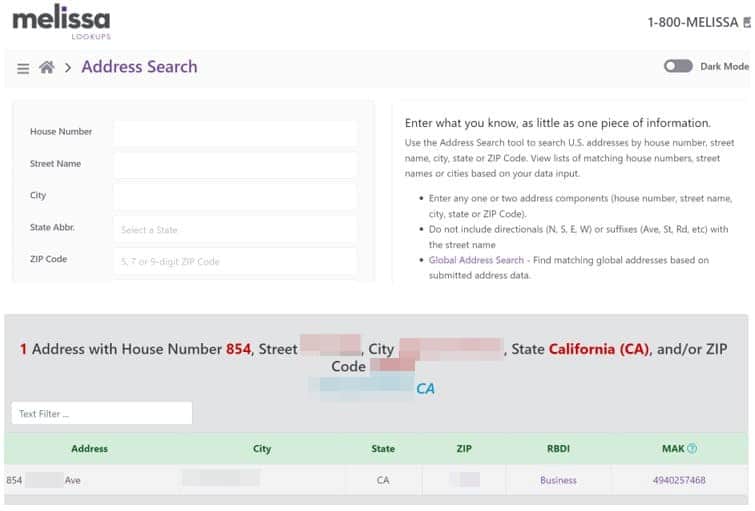 Searchbug
Searchbug provides a list of all matching properties from the address you enter in the search bar. You'll also see the current owner and mailing address. If you want a comprehensive report, Searchbug presents you with information about the legal owner, property's sales history, title company, loan details, and assessed value, among others.
The property records from Searchbug are current and up-to-date. You can still access information from past years and information from local property records and other regions. Overall, Searchbug has unique property search functions that can benefit many people.
PropertyScout.io
PropertyScout.io provides detailed property information and saves you from searching dozens of pages from public records.
After inputting the address, you'll require to pay for a 3-day trial, a monthly fee of $59.95, or $99.95 based on the plan. Some of the information you can find from PropertyScout.io include the owner's name, tax info, estimated market value, Google maps and street view of the property.
PropertyScout.io also has details about the deed and mortgage, parcel maps, and property structure details, and you can download comprehensive reports.
Hire a Title Company
A title company may come in handy when you need assistance with a title search, especially if the information is not readily available. Title companies conduct research on public records and find all the information related to a title.
You'll benefit from gaining information about the background of a property, which can make the transfer of ownership clear. However, title companies can charge $200 for a single search.
Turn to Marketing List Companies and Brokers
You can also talk to a real estate agent since they can run a title search. Some real taste brokers can do it for free, saving you money, but most marketing list companies will charge a small fee to conduct a property or title search.
The good thing about hiring a real estate marketing list company is that they can examine and ensure there are no liens, claims, or issues that could result in another entity or person laying a stake in the home.
Bonus: Try HeyLocate Search Engine
HeyLocate search engine can help you conduct a property search by turning up a good tracker for address lookups. It uses the help of AI and service searches of its partners to find the most suitable tracking software for your need.
Fill the Form and Try Reverse Address Lookup Now
Address Lookup
People search
---
Conclusion
If you've ever fallen in love with a property and want to know who owns it, this article will help you narrow down your options. You can start by looking up public records, but they could be time-consuming. Our paid options promise quick and comprehensive results.
Ownerly is our number one choice, thanks to its ease of use, detailed reports, and fair pricing. Neighbor Who is our second choice as it shows the property history and unique information concerning a property. Spokeo is an excellent choice when you want to know how to find property owner by address free of charge. You only have to pay for a comprehensive report.
Frequently Asked Questions (FAQs)
How do I find out who owns the property around me?
There are various methods to find property owner by address free. You could go to the tax assessor's office or the local assessor's office. Still, you could check out the paid platforms here, like Ownerly, Neighbor Who, and Spokeo. The latter options are fast, accurate, and easy to use.
How do I find properties of a person?
You can find property records by name by visiting your county clerk's, assessor's, or tax office. You'll have to inform them that you're searching for a property by name and specify the purpose of the search.
Can I search a name to see if they own property?
You can go to the county's tax assessor's office since they typically have that information. You'll also find out if any special assessments are associated with the property.
Do you have to pay to find out who owns a property?
How can I check property details online?
All the services listed here have online portals where you can check property details.